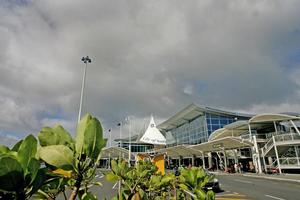 Auckland City Council's right-wing majority have gone against their better instincts and decided to buy $16 million more Auckland International Airport shares. Manukau City Council will spend $12.66 million upping its stake as well.
The ratepayers' money is to help fund the airport company's foreign adventures - the purchase of a 24.5 per cent stake in airports in Cairns and Mackay.
Just how buying North Queensland airports is a core business of Auckland local bodies I'm not quite sure. But then I've long questioned the wisdom, and justification for, Auckland and Manukau City Councils hanging on to their minority 22.72 per cent shareholding in the airport.
Manukau Mayor Len Brown talked on Wednesday of the crucial need for public ownership of a "key strategic asset". His rival for the Super City mayoralty, Auckland Mayor John Banks, agreed with these sentiments, calling it a "critically important" piece of infrastructure. Both emphasised its importance to the country.
Certainly it is a nationally vital piece of infrastructure. But that doesn't explain the need for minority ratepayer ownership. It's not as though, if the two cities' shareholding was sold off, a buyer could pack it up and take it back to foreign parts.
All I know is that if the two councils had accepted the offer of the cashed-up sheikhs of Dubai in mid-2007 and sold their collective stake in the airport, Auckland would be closer to achieving the world-class goal our leaders keep talking about. If the sale had gone ahead, we'd be in the midst of a great economy-boosting building spree.
The convention centre all mayors salivate over would be under way and debt free, the repairs to the Aotea underground carpark would be paid for, and the restoration of the St James Theatre would be halfway to completion. Meanwhile, down in Manukau City, similar wish-list projects would be under way.
But instead, both councils voted to hang on to the belief that retaining their minority holding was a matter of national and regional importance. The main outcome of their refusal to sell was to lose ratepayers around half a billion dollars.
In 2007, the two councils would have together pocketed $1.058 billion if they had sold to Dubai Aerospace Enterprise. Last Wednesday, the same shareholding had halved in value, now worth just $526 million.
Rubbing salt into this wound is the likelihood, that given Dubai's economic meltdown, the councils now could be buying these same shares back again and making a killing.
In 2002, Auckland City sold half its airport shares, bringing the holding down to its present level. Masterminding the sales was then and now finance chairman Doug Armstrong. This week he supported buying new shares to preserve the city's "strategic position". However, he added it would be up to the new Auckland Council, which takes over on November 1, "to determine future policy in respect to the Auckland Airport shareholding".
Freeing this cash up seems a canny thing to do. My only proviso would be that it be ring-fenced for special infrastructure projects such as those listed previously, and not just used to build a few kilometres of highway or sewerage piping.
There was a lacing of xenophobia back in 2007 attached to the opposition to, first, a Canadian pension fund then, later, the Dubai company's bid, the latter seeking a 51-60 per cent holding. The protest was a bit late. In July 1998, Jenny Shipley's National Government sold the Crown's 51.6 per cent holding in a public float for $1.80 a share. Managing the sale was broker Merrill Lynch, Prime Minister John Key's money-making alma mater.
North Shore, Waitakere and Franklin councils followed suit, North Shore selling its shares to Singapore Government-owned Changi Airport Enterprises. By 2007, 36 per cent of the shares were in overseas ownership.
For all the patriotic rhetoric, I've seen no evidence of any benefit from the residual 22.72 per cent public shareholding. The conversion of the whole airport precinct into a vast commercial park, has, for example, been driven by profit, not local or regional planning. As has the development of vast money-making carparks, competing directly with the region's drive for more use of public transport.
As for being nationally strategic, well if that's the case, why did Mrs Shipley - now a dame - sell off majority control 12 years ago?