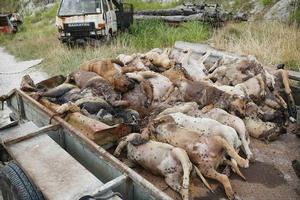 The SPCA is incensed at the mass killing of 33 dogs at Wellsford, north of Auckland, on Monday, with inspectors describing the incident as a frightening example of animal abuse.
Executive director Bob Kerridge told reporters today that he had seen many incidents of atrocities against animals in his many years with the SPCA, but the sheer size of this incident put it in a different league.
"The scene which confronted our two inspectors will leave a lasting impression on them," he said.
SPCA inspectors Sacha Keltie and Vicki Border were visibly upset by the incident.
"When I arrived at the property, I was confronted with a scene not unlike a massacre," Ms Keltie said.
"I've never seen anything as horrible as this in my life, and I cannot begin to imagine the terror these animals were faced with.
"It was a haunting scene of death and destruction, and I struggle to comprehend what took place there," Ms Keltie said.
Fighting back the tears, Ms Border said the shooters seemed to be on a "frenzied mission".
"They would not stop until all dogs were executed. The dogs were screaming, but they ignored the witness's pleas to do it properly. One of the injured dogs went to bite the rifle and the shooter blew its head off.
"The scale of this is unbelievable. We are lost for words," Ms Border said.
Mr Kerridge would not comment on the circumstances that may have triggered this incident, which was a matter for police, he said.
The SPCA would only be interested in pursuing details of the offence and charges would definitely be considered.
A rifle and a shotgun used during the killings are to be seized by police.
The dog owner, Rowan Hargreaves, who saw the dogs he called "his family" shot dead on his property on Monday, was also being counselled by close friends, said police.
Police said today they would seize the rifles after the dogs were shot dead in a row between Mr Hargreaves and his neighbour Russell Mendoza near Wellsford.
The dogs were shot by Mr Mendoza and another man after Mr Mendoza's fox terrier was found dead and Mr Mendoza blamed one or more of the 39 dogs Mr Hargreaves owned.
Senior Constable Barry Rose from the Wellsford police said the police investigation into aspects involving the weapons had not been completed.
Police had had "reasonable co-operation" from both men.
Mr Rose said he had dealt with animals for much of his life and had killed animals where necessary but the sight of 33 dead dogs on Mr Hargreaves' place was "awful".
"From what I saw they didn't die as I would expect them to die."
He said they should have died from one shot each to the head but there were many empty cartridge shells where the bodies were found.
"There was more (empty shells) amongst the blood and guts," he said.
- NZPA