The parents of a teenager who took his life have made a passionate appeal to prevent similar deaths.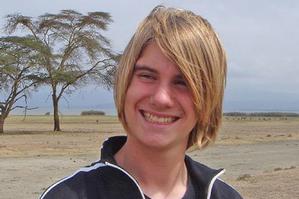 A 15-year-old schoolboy took his own life after being part of a late-night text conversation about suicide.
Michael Powell was found dead near his home in Waihi Beach, in the western Bay of Plenty, last April.
At an inquest in the Waihi District Court this week, coroner Peter Ryan ruled the death was self-inflicted and described the case as "every parent's worst nightmare".
Ryan reserved his final findings but expressed "grave concern" about the content of texts between teenagers - and when they sent them. He also promised to investigate how troubled youngsters could be offered more help.
Michael's parents, Heather and David, told the inquest their son's death was a "bolt from the blue". They said he was sensitive but showed no signs of depression.
He was a high achiever at Katikati College, loved rugby, surfing and music and played the guitar. He was learning to drive and saving wages from his job at a local restaurant to buy his first car.
They told the inquest they believed Michael killed himself after misinterpreting text messages between him and two girls, one 13, the other 14, sent after midnight on the night he died. The girls had been texting each other about suicide and had discussed a pact, the inquest heard.
Heather later said she believed Michael was unaware of those messages and had no part in the pact.
The 14-year-old texted the 13-year-old and said she "wanted out of this world" and asked for her "help", the inquest heard.
When the 14-year-old stopped responding, the 13-year-old texted Michael and said she could not watch her friend kill herself. "If she's gone then so am I," she wrote.
Michael called the 13-year-old from his parents' landline and the pair talked for about 17 minutes, the inquest heard.
The girl told police she explained things to Michael and everything was "normal" when the conversation ended.
But Michael took his life soon after. He was found by a maintenance worker in a toilet block near his home the next morning. Heather told the inquest she was "shocked" by the content of the texts. She did not want to lay blame, but thought the nature of the messages contributed to Michael's actions.
She was disappointed the girls had not explained the texts or apologised to the family.
"I believe Michael was left tormented and confused. In his mind both the girls were dead.
"If he was thinking logically he would have reached for help. How could those messages cause anything but harm?
"I so passionately want to prevent this from happening again. I want to get the message out about text messaging."
The Powells asked Ryan to recommend two law changes.
They want the Telecommunications Act updated to encourage teenagers to text responsibly and think about the consequences of every message they send.
They also want the Coroners Act amended to bring it in line with changes to UK legislation.
In New Zealand, the Crimes Act makes euthanasia and assisted suicide illegal, but there is no mention of those who encourage suicide.
The UK Coroners and Justice Act was amended last year so a person commits an offence if they do something capable of encouraging or assisting suicide or attempted suicide.
An offence has occurred whether suicide, or attempted suicide, occurs.
David said the UK law meant people were accountable for their actions from the age of 10.
He wanted that threshold in New Zealand, where the current age for criminal liability is 14.
Ryan told the Powells he would examine the legal framework to see if anything could be done to "reinforce the dangers of sending texts".
"It is every parent's worst nightmare to have their child take their own life.
"We don't really know what the trigger was, only Michael knows that," he told the hearing.
"But there are some issues with Michael's case that cause me grave concern - very young teenagers texting late at night.
"A text at 2pm is going to have less of an effect than someone receiving it at 2am. Texts are very graphic and can be misconstrued. You don't see the person's face or hear the tone of their voice."
Ryan was also concerned none of the teenagers involved asked for help.
"Young teens are very much at danger of suicide and need as much help as we can give them. I will be looking at all those avenues in regards to Michael's case.
"There are a number of organisations trying to prevent young people carrying out any kind of suicidal (thoughts). But the fact is, people talking about it is a concern. Talk often leads to action."
He may also recommend a change to counselling for families dealing with suicide.
Heather said she, David and their three other children were all having one-on-one sessions costing $80 to $110.
"It is a myth that it is free and a myth that we are covered by ACC," Heather told the inquest. "We can do it but it's a lot of money for a family."
Suicide Prevention Information New Zealand director Merryn Statham said she would support any recommendation to offer more help for people affected by suicide but was unconvinced law changes were the best way to prevent it.
Where to turn
If you are depressed and need to talk to someone:
* Lifeline: 0800-543-354Youthline: 0800-376-633
* Samaritans: 0800-726-666
If it is an emergency and you believe you, or someone you know, is at risk, dial 111 immediately.
* Suicide Prevention Information New Zealand has more information about mental health services and contact information for counsellors, doctors and support groups. For more information, visit: www.spinz.org.nz.