In reality TV with a difference, artists are tasked with reflecting the treaty of Waitangi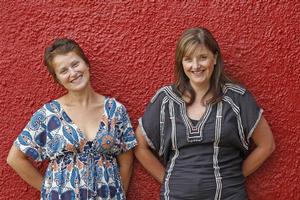 Oh no, the two women say, you can't have images of the finished works of art - that would ruin the big reveal.
Fair enough, given these women have spent the past few months intensively pulling together a documentary with a difference which will screen on Maori Television on Waitangi Day.
Canvassing the Treaty is educational television - but it's also reality TV.
Instead of featuring over-eaters or wannabe chefs, the programme's aim is more intellectual, bringing together six artists from diverse backgrounds, pairing them up, educating them about the Treaty of Waitangi, and watching dawning realisations for some as they produce equally diverse works of art.
This is gentle and fascinating television which takes place at Te Tii Marae at Waitangi, usually captured on screen as the scene of shoving and disharmony but this time portrayed as a place promoting unity and collaboration.
And that was really what the Treaty was all about, say the makers of the documentary who are sitting side by side on a couch sipping mugs of coffee.
In the spirit of their programme, Kay Ellmers and Jane Reeves give a collaborative interview, tag-teaming their answers as they explain why they made Canvassing the Treaty.
The idea was Ellmers' and the documentary was made by her small, independent television company Tumanako Productions. It was given one of the first grants from the new Platinum Fund, which is administered by New Zealand On Air and dedicated to funding high-quality, home-grown television.
Jane Reeves, daughter of former Governor General Sir Paul Reeves, was the director and has inherited her father's softly spoken yet persuasive style.
The women, both 42, have a knowledge of the art world and Maori heritage, which made the project all the more enticing as they, too, learned aspects of the Treaty they had not considered before and watched art being created from scratch by artists who hardly knew each other but who suddenly had to work together.
The programme works like this: Three artists with Maori heritage are each paired with a New Zealander of a different background. One has Cambodian heritage, one is of Tongan/German descent and one they refer to as "the Pakeha".
Each artist has a different level of knowledge about the Treaty. The documentary tracks them as they attend a one-day workshop conducted by Maori Treaty educator Moana Jackson and Pakeha Treaty educator Ingrid Huygens, a New Zealander of Dutch descent.
Jackson tells them, for example, that one of the difficulties with the Treaty is that people make it unnecessarily complex.
It has become the domain of an elite of lawyers and judges, but really any treaty is simply about relationships.
"... there are stories that are embedded deep in this land about the Treaty that give a quite different way of seeing, give a quite different perception of what the Treaty was and what we believe it means."
The educators try to take the artists back in time, to view the Treaty from the perspective of Maori of the time.
Jackson draws a straight line on a whiteboard, marking off a tiny area for the time between 2009 and 1840 and explaining that in all the time before, Maori exercised the power to protect "and so when other people started coming to this land from other places in the world it would seem to me to be obvious that we would want to keep being able to protect what it meant to be Maori".
Huygens explains the two sides to the Treaty "the tangata whenua side and the tangata tiriti side, so for the side of all of those of us who have ancestry where we are only here because of the Treaty, who were invited to be here because of the Treaty, so those are the two sides and that's why you're going to be paired that way too".
The artists are then paired up and challenged to create a collaborative artwork which reflects their new knowledge and reactions to what they have heard.
A month later they are taken to Te Tii marae to create their pieces over the course of a weekend.
As the documentary unfolds, you see the artists in action and glean a little more knowledge through their experiences.
Reeves says it was important for the artists to be in Waitangi and soak up what happened there in 1840 and before.
"It really, really had a big impact on them and I think pretty much all of them said that just walking there, being there, really affected their thinking and what they were coming up with. I'm so glad we did it that way."
For some, issues of identity were raised, especially for "the Pakeha" Mike Davison, who also talked about feelings of guilt.
This was a fascinating discussion, says Reeves. She thinks he was very honest and says things a lot of Pakeha would be thinking, about how New Zealand is his home and he loves it, and how he doesn't belong in England.
Davison tells how he got into a heated argument with his family after the workshop and how he thinks the whole exercise was challenging him to be proud to be Pakeha. "And it's not easy to mix the guilt in with this kind of searching for a proper identity."
At Te Tii marae Nga Puhi kaumatua Kingi Taurua shows the artists where the chiefs sat and talked for days about whether or not to sign the Treaty. He tells them that for many Nga Puhi, the 1835 Declaration of Independence is much more important than the Treaty.
The artists are shown the pou (carved posts) on the marae which represent the Maori navigators who first came to New Zealand.
Artist Sonia Minson, is of Ngati Porou descent and was drawn to the pou representing Ngati Porou's waka. This becomes the centrepiece of her combined artwork with Samapeap Tarr, who has a New Zealand father and Cambodian mother. He reveals that many of his mother's relatives were murdered by the Khmer Rouge.
During the documentary, you get to see Minson's flash of inspiration about incorporating the Om symbol (Om is sort of the sound of the universe) of Tarr's culture into the painting, and for Ellmers and Reeves, this moment perhaps sums up collaboration and moving forward as a nation.
Ellmers explains that usually media coverage about the Treaty is through a classic approach of taking two sides and creating conflict.
She and Reeves wanted to look at how, through the Treaty, collaboration and working together can be achieved.
"When you look at the heart of the document, and the heart of the notions behind it, it was more about how differing views come together, so it was more like, why are we always so focused on the debate side of it, let's actually look at a way to explore collaborations.
"Art's a really great way to explore collaborations because people have to share ideas and try to find some common ground about those ideas."
The artists understood the metaphor of what they were being asked to do: "You're forced to collaborate, just as when two people come together to share this land you are forced to have to collaborate and get on."
Canvassing the Treaty screens on Maori Television at 9.30 pm on Waitangi Day (February 6), just after the Great Debate which is adjudicated by Jane Reeves' father Sir Paul Reeves.