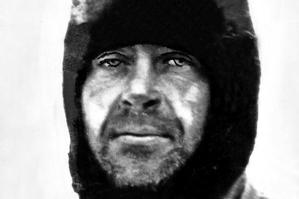 On the banks of Christchurch's Avon River stands a marble statue of a resolute Captain Robert Falcon Scott.
The Antarctic explorer wears polar dress and faces north, his back to the South Pole.
Sculpted by his widow, Kathleen Scott, the memorial is a tribute to Scott and the men who perished, starving, exhausted and frostbitten, after a gruelling journey on foot to the pole.
An inscription reads: Robert Falcon Scott Captain Royal Navy
Who died returning from the South Pole 1912
With A.E. Wilson, H.R. Bowers, L.E.G. Oates, E. Evans
Scott's farewell message is also recorded on the statue. He wrote it in a diary, found with his body in a tent along with those of Edward Wilson and Henry "Birdie" Bowers by a search party from McMurdo Sound after the end of the Antarctic winter of 1912. The body of Lawrence "Titus" Oates was never found.
Scott's words read: "I do not regret this journey, which shows that Englishmen can endure hardships, help one another, and meet death with as great fortitude as ever in the past."
A Royal Navy officer, Scott led two expeditions to the Antarctic. For his first trip, between 1901 and 1904, he used Discovery, a ship specially built for icy seas. British Government funds helped pay for the scientific voyage.
Ernest Shackleton, from the Merchant Navy, signed on as a junior officer. During their stay on the ice, Shackleton and Scott made difficult journeys with sledges and dogs into unexplored territory. Poor rations took their toll, and a sick Shackleton was invalided home in 1903 suffering the effects of scurvy.
Irish-born Shackleton was restless to return. With his sights on the elusive Pole itself, he went back to the Antarctic in 1908 on the sealing ship Nimrod with a formidable scientific team. In October, Shackleton, three other men and four ponies set out.
On January 9, freezing and desperately hungry, just 180kms from the Pole - further south than anyone had ventured - they planted a flag, took a photograph and turned back.
"If we'd gone on one more hour," wrote Jameson Boyd Adams, one of the Southern Party, " we shouldn't have got back."
Even then it was touch and go. Stashes of frozen pony meat gave them dysentery, and they staggered on with the aid of Marshall's Forced March tablets, a cocaine mixture.
For his second journey Scott sailed on Terra Nova, originally a whaler. Wilson, Bowers, Evans and Oates - "master of the ponies" - were on board, along with Herbert Ponting, a professional photographer and film-maker. In Melbourne, Scott learned by telegram that he had a rival in his quest for the Pole.
"Beg to inform you Fram (Roald Amundsen's ship) proceeding Antarctic. Amundsen." Scott refused to let the news deter his ambitions.
This account of his doomed journey, of Englishmen dying "with as great a fortitude as ever " and the striking black and white contemporary photographs, comes from The Heart of the Great Alone - Scott, Shackleton and Antarctic Photography by David Hempleman-Adams, Sophie Gordon and Emma Stuart.
'FINAL preparations for the southern journey began after sun-return on 22 August 1911. Scott announced his plans - to deliver four men to the Pole, using motors, ponies and dogs - to general enthusiasm on 13 September. Lieutenant Evans led the motor party out on 24 October, but they lasted less than two weeks, forcing their drivers to start manhauling a mere 50 miles (92 km) from base. The main party set off on 1 November, moving at a variety of paces.
The dog teams, whose purpose was to drag supplies and support the other parties as far as One Ton Depot (though they were eventually taken as far as the Beardmore Glacier before turning for home), caught up with the pony parties on 7 November.
Blizzards and soft-going hampered their progress, the ponies were shot one by one to feed the dog teams, and they first sighted the Transantarctic Mountains on 28 November.
The heavy blizzards which confined them to their tents in early December were the final straw for the remaining exhausted ponies. They were shot at "Shambles Camp" on 9 December, the meat was cached and the party began to manhaul. Scott noted gloomily that he was seven days behind Shackleton.
On 10 December they started climbing, and near the summit on 22 December the First Returning Party - Wright, Keohane, Cherry and Atkinson - turned back. Scott was gradually weeding out the weak points as he saw them, and then on 3 January he dismissed the Last Returning Party - Lieutenant Evans, Lashly and Crean - but retained Bowers from Evans' team, an unexpected fifth man for the Pole.
All travelling calculations, tent sizes, ration packs and so on had been based on a unit of four, not five.
It would require additional care from Evans' party to take only three men's worth of rations and fuel from each depot; five men would be overcrowded in one tent; and (a fact Scott admitted that he had overlooked) cooking for five took longer than cooking for four.
Still, a fifth man meant more muscle power; apart from himself and Wilson, Scott was taking Petty Officer Evans and Oates, among the tallest and most powerful men on the expedition, and Bowers was well known for his strength and all-round utility.
Lieutenant Evans and his men turned back on 4 January 1912, hoping for a straightforward run. However, at the foot of the glacier Evans began to show the first signs of scurvy (he had been manhauling virtually the whole way) and by mid-February he had to be strapped to the sledge and dragged. Evans's total collapse on 18 February, 30 miles (55km) from Hut Point, caused another rethink, and the two sailors, themselves exhausted and starving, decided that one of them must march for help.
Crean accomplished the journey without shelter or much food, hours before a blizzard swept in that would have killed him, and brought Atkinson with the dog team back out to where Lashly was nursing Evans in the tent.
The two seamen were later awarded the Albert Medal by King George V for their role in saving Evans's life.
The Polar Party soldiered on, over an uneven and difficult surface, passing Shackleton's Furthest South on 9 January.
On 16 January the worst happened - Bowers spotted a black flag fluttering in the distance and they found the remains of a camp and the paw prints of many dogs. Amundsen had forestalled them, reaching the Pole on 14 December 1911.
Scott's team finally reached the Pole on 17 January and spent the following days verifying their position and taking measurements. They found "Polheim" (the Norwegian tent and flag) and put up their Union Jack for the official photograph at their own computed Pole position.
There was not much time to waste - the season was drawing in and Scott's diary for 17 January read: "There is that curious damp, cold feeling in the air which chills one to the bone ... Great God! this is an awful place and terrible enough for us to have laboured to it without the reward of priority."
Their return across the plateau was somewhat aided by a sail to catch the wind from the south, but they also had to contend with the worsening surfaces "without a particle of slide or give".
Petty Officer Evans' nose and fingers kept getting frostbitten, and Oates' feet, which he had recorded over a month ago as being cold, were on the verge of frostbite.
There was also the insidious psychological effect of having been beaten to their goal.
Their descent of the glacier took them into warmer weather and they discovered some highly significant fossils that indicated Antarctica's warmer past, but they were having difficulty finding their depots.
By the time they reached the foot of the glacier, Evans was on the verge of breakdown and could no longer pull; on 17 February he collapsed completely and died several hours later, his death possibly caused by a brain haemorrhage after a fall into a crevasse, exacerbated by incipient scurvy or dehydration and the effects of altitude. The persistent low temperatures made pulling difficult, and Oates' feet were continually being frostbitten. Evans' absence was "a help to the commissariat", but there was an alarming shortage of oil at the depots, probably due to evaporation in the cold weather.
By 10 March Scott considered that Oates had no chance of pulling through, given the state of his feet, and on 17 March Oates took his fate in his own hands and "walked out", knowing that he was impeding his comrades' progress.
By then it was probably too late. Everyone was on the verge of serious frostbite, caused by what has since been shown to be a "rogue" winter, and on 18 March Scott's own right foot went.
Their final march on 19 March got them to within 11 miles (20 km) of plentiful food and fuel at One Ton Depot (which they would have reached had it been positioned where it was originally intended), when they were forced to stop, pinned down by a blizzard.
In his sleeping bag, Scott wrote: "We are getting weaker, of course, and the end cannot be far. It seems a pity, but I do not think I can write more ... For God's sake look after our people."
They were found, intact in their tent, eight months later.'
The Heart of the Great Alone Scott, Shackleton and Antarctic Photography by David Hempleman-Adams, Sophie Gordon and Emma Stuart The Royal Collection © 2009 Her Majesty Queen Elizabeth II.($75)
PICTURES FROM THE GREAT ALONE
The Queen is lending a collection of early Antarctic photography to Canterbury Museum for a major exhibition.
The Heart of the Great Alone: Scott, Shackleton and Antarctic Photography will open in the Robert McDougall Gallery at Canterbury Museum on 20 August 2010.
The exhibition comprises a breathtaking collection of photographs by Herbert Ponting from Captain Robert Falcon Scott's Terra Nova expedition of 1910-13, and by Frank Hurley from Ernest Shackleton's Imperial Transantarctic Expedition, 1914-16.
The 2010 exhibition falls within the 100th anniversary of Scott's expedition, which included his journey to the South Pole.
Presented to King George V and today part of the Royal Photograph Collection, these sets of photographs are among the finest examples of the artists' works in existence.
The show runs from August 20 until late February next year, when it returns to the Queen's Gallery at Buckingham Palace.