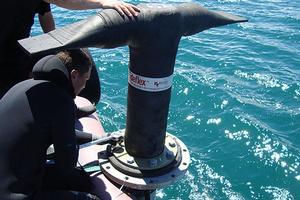 The $116 million project to build a new sea outfall for North Shore's sewerage plant is on track for commissioning in July.
A tunnel boring machine has finished a 3km section from the Rosedale plant to a point off Mairangi Bay beach. Here a 2.1km pipeline has been buried on the seabed to disperse the treated effluent in the Rangitoto Channel.
Project contractor McConnell Dowell is now installing the links between the marine pipe and the tunnel and the tunnel to the plant.
At the seaward end, divers have fitted 58 diffuser nozzles shaped like a duck's bill, which spread treated effluent for 350m along the strong current.
Built from thick rubber, the diffusers are designed to bend if snagged by a boat's anchor. The pipeline of high-density polyethylene is in no such danger because it is buried in a trench covered with at least 1m of seabed material.
Sections of the pipeline were towed to the site by tug and lowered into the trench by controlled flooding and sinking. Divers bolted the sections together which were pressure tested for leaks.
Far below houses and parks, a tunnelling machine the size of a freight truck has chewed a curving route, which has been lined with 18,000 precast concrete segments. Its progress 30m underground was slowed in the winter by loose mucky soil and high groundwater pressures.
Despite unforseen poor conditions in the 2.8m diameter tunnel and at sea, the project is still within the $116 million estimate, said North Shore City Council planning and projects manager Adrian Vosloo.
At the plant, a zigzag-shaped shaft is being built to control the cascade of waste water as it falls 45m to reach the outfall tunnel.
A suggestion that the water pressure could be harnessed to run a 250kW hydro power station will not be taken up - for now. Mr Vosloo said the benefit of installing a turbine in the shaft did not match the cost.
"But it may be economic in the future with energy prices rising and the shaft is modified, so if we choose to we can install a mini hydro station then."
The council says the outfall will last 100 years and gives the plant six times more capacity than it has with the existing sea outfall, which discharges 600m off Red Bluff, J F Kennedy Park.
Discharge from the plant is 99.9 per cent water after the treatment process of removing solids and disinfection by microbes and ultra violet light.