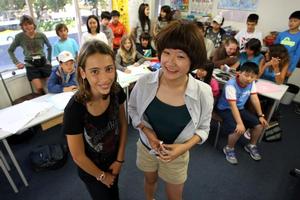 Except for Lord of the Rings, South Korean teenager Erica Park knew very little about New Zealand before she came here.
But it was the country's "exclusiveness" that made her parents decide to send the 14-year-old here to learn English.
"They think it is best ... for me to be in a totally English-speaking environment because it will make me learn the language faster," Erica said.
But for 13-year-old Loane Seigner, from New Caledonia, it was her country's proximity that made her parents decide on New Zealand.
"It is only two hours away, so they think it is safer for me," she said.
For varied reasons, international students - short and long term - continue to arrive despite the recession and economic crisis, the Department of Labour's Migration Trends and Outlook report said.
Over a period where fewer tourists from Asia, Europe and the Americas arrived because of the economic slowdown and swine flu pandemic, export education continued to boom.
About 74,000 international students were approved to study here last year, a 6 per cent increase on the previous year.
This was on top of thousands of other short-term students, like Erica and Loane, who arrived on visitors' permits.
The Department of Labour says its research has shown that international students choose New Zealand because it is English-speaking, safe, offers quality education and international recognition rather than the cost of study.
But it says New Zealand's exchange rate - the kiwi weakened against the US dollar over the first half of 2008-09 - undoubtedly played a role in bringing students here.
"Factors such as New Zealand's scenery, lifestyle and opportunities for travel and adventure feature highly in the decisions of those who study here."
The report said India is emerging as an important source country for international education, with 50 per cent more approvals on average since 2005, but China remains the largest market, making up 20 per cent of total student approvals.
A total of 210,407 temporary permits - student and work permits - were issued by Immigration last year.
The report says students and temporary migrants are an important migrant source. Last year, 15 per cent of those who gained residency were previously on student permits and 59 per cent on work permits.
"Many students transition to work permits and then gain residence as skilled migrants."
Christopher Blake, Secretary of Labour, said net inflows of overseas-born people to New Zealand over recent years added around $1.9 billion annually to the economy.
Immigration's Singapore marketing website on www.newzealandnow.govt.nz went live yesterday, without the typo errors reported in yesterday's Herald.