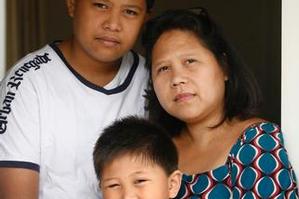 Moving to New Zealand last year after obtaining a work-to-residence visa, Filipina accountant Lourdes Sarmiento thought she would be starting a dream new life.
Instead, she has faced numerous setbacks after being unable to find a job, even with a three-month extension to her initial three-month visa and sending out hundreds of applications.
Ms Sarmiento also found out late last year that flood had severely damaged her house in the Philippines, and she has nothing to return to.
Now on a visitor's visa, the 44-year-old former cruise ship chief accountant is unable to pay international fees for her two sons, Azil Dominiku, 14 and Alexis Dominic, 6, to go to school.
"I feel like I have really let my children down," Ms Sarmiento said.
"We moved to New Zealand because we wanted them to have a better life. Instead they don't even have a school to go to when the term starts next month."
Ms Sarmiento is one of several migrants who have watched their dream turn into a nightmare.
It looked so much different before she arrived. The Immigration New Zealand website said plenty of jobs were available, and her skills were on the shortage list.
Residency would be confirmed after she found work.
Immigration New Zealand changed the words on its website that claimed unemployment was at an "all-time low" after a Herald report in June.
However, despite the recession, work permits were approved in record numbers - 136,481 being issued last year.
The Migrant Action Trust has criticised the ease with which the agency was issuing work and work-to-residence permits, claiming they were a trap for potential migrants.
"There are no jobs for them here. Migrant workers stand to lose everything when they move here," trust spokeswoman Agnes Granada said then, as thousands of out-of-work migrants were faced with problems during the recession.
The Department of Labour says New Zealand's unemployment rate hit 6 per cent last year, up from a low of 3.5 per cent in December 2007.
"It is likely that the unemployment rate in New Zealand will rise in 2009-10," the department's Migration Trends and Outlook report said.
It said many temporary migrants who came to New Zealand to work gained entry through policies that were labour market tested, meaning they would need a job offer.
"With the rise in unemployment, there has been less demand for temporary migrant workers," the report said.
"Also, decline rates through the essential skills policy have increased as able and appropriately skilled New Zealanders become available to work."
The department found most skilled migrants were generally happy with their lives in New Zealand.
A 2008 survey found nine out of 10 skilled migrants were satisfied or very satisfied with life here.
Ninety-two per cent said they would recommend New Zealand as a place to live and the relaxed pace of life, and the clean and green environment was likely to meet migrants' expectations.