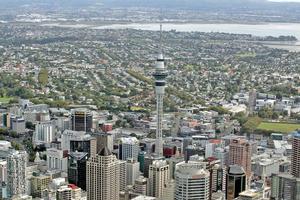 Auckland's council employees are showing more interest in joining trade unions because they are worried about jobs in the new Super City.
More than 6000 staff work for the eight local authorities which will merge on November 1 to form the Super City.
Public Service Association national secretary Richard Wagstaff said his organisation represented about half of the council employees eligible for membership.
"We've had steady growth in membership in a year - from 2300 to 2700."
The agency designing the Super City promises a clearer picture by next month on the shape of the new organisation, which includes Watercare Services and the Transport Authority.
Former trade union leader and MP Laila Harre joined the Auckland Transition Agency to handle human resources and staff change management.
Staff and unions regionally were invited to discuss draft proposals which have significant effects on them.
"We have been involved in the process for months to secure as many jobs as we can," said Mr Wagstaff.
"We have made good progress in discussion and negotiation and have agreed with the agency, and the Government has supported it, that we should maintain as many jobs as we can."
Staff employed by individual councils in planning, policy and strategy roles, as well as senior managers, are the most worried about not being transferred to roles in a new structure.
Northern Amalgamated Workers Union secretary Ray Bianchi said membership was up from 2300 two years ago to 3500.
"There's apprehension among council workers about the Super City but I think the rise is more because of the wage freeze and people wanting wage rises."
Mr Bianchi believes reorganisation will have little effect on the group of staff represented by the union because they are in frontline jobs rather than in administration or management.
"Zookeepers, gardeners, parks rangers - you can't reduce them because the amount of work for them is not decreasing."
But joining the union appealed to those concerned at the agency's intention to harmonise terms and conditions for groups of council workers throughout the region, without adding to wage costs.
The Super City transition means roles will be scrapped or changed, and a change of work site for some staff.
In February-March, existing roles will be matched to the new structure.This will show where staff will fit into the new organisations and they will get an opportunity to transfer to a similar role or apply for a new one.
Recruitment of an Auckland Council executive group starts next month and will be completed before most staff are transferred to new organisations.
Meanwhile, councils have nearly stopped recruiting to give existing staff a better chance of gaining a job in the new body.