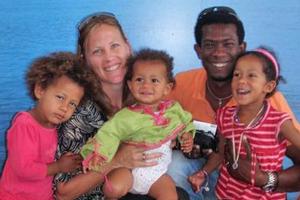 A New Zealand girl has been found alive but her father has died in the rubble of a collapsed hotel in quake-hit Haiti.
Emily Sanson-Rejouis, 37, put a distraught call to family here via satellite phone last night, saying her French-Haitian husband and their three young New Zealand-born children were missing in Port-au-Prince and she was struggling to find help among the chaos.
Emily's Auckland-based step-sister, Caroline Larnach, told Radio New Zealand this morning that her two-year-old niece, Alyahna, had been pulled alive from the rubble.
She said the girl had one broken leg and "the other may be broken as well".
Ms Larnach said she understood that Emily's husband, Emmanual had been found dead.
Newstalk ZB reported that Alyahna was found under her father's body.
Ms Larnach told Radio New Zealand that she had spoken to her sister three times and each time she had asked for emergency services to help dig her family out of the rubble.
"There's a New Zealand family there and we know where they are.
"We need emergency services right there to that spot to help a New Zealand family," Ms Lanarch said.
Ms Lanarch's brother, Jamie Lanarch, said the family were using social network sites to appeal to emergency services and non-government organisations to help.
The Sanson-Rejouis family had been staying at the Her French-Haitian husband and their three young children were staying at the Karibe Hotel, Juvenat 7, in Petion-ville.
"That's where they are. If anyone can get there to help, we would appreciate it," Mr Larnach said.
Mr Larnach said Helen Clark was helping in her position at the United Nations.
"We're trying to get in touch with agencies over there to consider the girls," he said.
Mr Larnach said it was not clear if Alyahna had been able to see a doctor.
"We don't know anything, we've only had one simple text," he said.
Earlier Ms Lanarch told the broadcaster that her step-sister could hear at least one of her daughters alive in the rubble of the hotel.
"She can still hear at least one of her children and she's trying to get them out," she told Radio New Zealand.
"She can hear the children, she can hear her children's cries, she can't get in, she can't speak to them."
The Ministry of Foreign Affairs and Trade confirmed that one of the four members of the family had been found alive.
However the spokeswoman could not provide any information as to the identity of the person. She said the other three members of the family were still "unaccounted for".
Ms Larnach last night said her sister had been at work when the quake struck.
"She found her way to the hotel where Emmanuel was with the three little girls," she said.
"When she got there the hotel was collapsed and she had no way of knowing what had happened to her family."
The hotel was one of many buildings destroyed yesterday by the 7.0 magnitude quake which left so much destruction that authorities have no idea how many lives have been claimed, other than to say it may be more than 100,000.
Click here to see how to donate to victims of the quake.
A Ministry of Foreign Affairs and Trade spokeswoman confirmed late last night that the Sanson-Rejouis family were thought to be the only New Zealanders in the disaster zone.
She said the ministry had been working with organisations in Port-au-Prince in the hope of finding the four Kiwis.
Ms Sanson-Rejouis, who grew up in Nelson, met her husband while working in eastern Europe for the United Nations, later shifting with the agency to Haiti where some of Mr Sanson-Rejouis' family are based.
He is a New Zealand citizen and the couple's children, Kofie-Jade, 5, Zenzie, 3, and Alyahna, 2, are all New Zealand born.
Ms Lanarch said her family had tried all afternoon to contact Ms Sanson-Rejouis after hearing about the quake, and finally heard from her about 7.30pm after she managed to borrow the satellite phone.
Ms Larnach said her sister was struggling to find assistance among the chaos and was desperate for help.
Family were staying in touch with Foreign Affairs, who are communicating with their Australian, British and French counterparts to check what representation is available in the quake-hit region.
Ms Larnach said she had also been in touch with international aid agencies.
"We are just trying to do everything we can to find out if there are any groups that can help us," she said.
"If there are any organisations or people in New Zealand that can help us find our sister, and help her and her family..."
Another sister, Rachel Sanson, was preparing to leave for Miami today, but it was not known whether she would be able to go any further.
Yesterday, as toppling buildings sent clouds of dust and smoke billowing into the sky, panic-stricken people screaming "Jesus, Jesus" fled into the streets of Port-au-Prince.
Offices, hotels, houses and shops collapsed, and the gleaming white presidential palace lay in ruins. Bloodied and dazed survivors gathered in the open in Port-au-Prince after the magnitude-7 quake.
The jolt buried hundreds, possibly thousands of people under rubble.
Numerous powerful aftershocks rattled the city into the night.
"The whole city is in darkness. You have thousands of people sitting in the streets with nowhere to go," said Rachmani Domersant of the Food for the Poor charity. "There are people running, crying, screaming."
Witnesses said they saw homes and shanties built on hillsides come tumbling down as the earth shook.
New Zealand aid agencies last night rallied in response to the quake. Some put out appeals for emergency aid while others were busy trying to reach their staff in the city.
Both Unicef and Save the Children said their own offices had been among those buildings damaged, along with the United Nations building which Ms Sanson-Rejouis was working in.
Unicef New Zealand said any working phones were being used to coordinate the emergency response.
"We have very little information at the moment, but early reports are that the population has sustained significant damage, including damage to our own office. We expect to have more information tomorrow," executive director Dennis McKinlay said last night.
"In the meantime, Unicef is working both locally and internationally to respond to the humanitarian needs that may arise from the earthquake, such as lack of clean water and sanitation, and the spread of diseases."
A Save the Children spokesman said phone lines went down shortly after the quake and the charity was sending communications experts from the United States.
Meanwhile, international agencies have been putting out requests for emergency aid, while others have been busy trying to reach their staff in Port-au-Prince to confirm they were safe.
- NZPA and AGENCIES