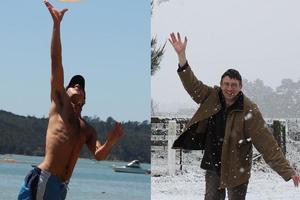 See-sawing temperatures characterised New Zealand's weather in 2009, according to National Institute of Water & Atmospheric Research's annual climate summary.
Heat waves occurred in January and the start of February; May was the coldest on record; October had its lowest temperatures since 1945; and August was the warmest August ever, the report released today said.
In individual months, especially September and November, daily temperatures frequently broke long-standing records, with extremely cold temperatures often occurring within a week or so of record hot events.
For the year as a whole, temperatures were near average - within 0.5C of the long-term average - for most of the country, but were between 0.5 and 1.0C cooler than average in parts of Auckland, Waikato, Manawatu, southern Hawke's Bay, Wairarapa, Wellington, Marlborough, inland Canterbury, and eastern Otago.
The national average temperature for 2009 was 12.3C, 0.2C below the long-term normal.
The years 2000-2009 were a warm decade overall, with a 10-year average temperature of 12.6C, 0.1C above the 1971-2000 normal.
Rainfall during the year was below normal, at 50 to 80 per cent of normal, in parts of Auckland, central North Island, northern Hawke's Bay, southern Wairarapa, north Canterbury, inland south Canterbury, and central Otago. Other areas received near-normal rainfall.
Nelson was the sunniest centre, recording 2571 hours, followed by Tauranga with 2540 hours, then Blenheim with 2477 hours.
Of the main centres, Tauranga was the warmest and sunniest, Wellington was the wettest, and Christchurch was the driest.
The broad climate setting changed from La Nina at the start of the year, to moderate El Nino conditions by the spring of 2009.
Notable climate features of 2009 in various parts of the country included the record warmth of January, the heatwaves of early February, and the record cold and extreme wet of May.
At the end of June, Gisborne declared a state of emergency due to flooding. An unusually icy, snowy period prevailed throughout June and July, followed by the record warmth of August, which contributed to a severe avalanche season.
Unseasonable snowfalls then characterised the coldest October in 64 years. An extremely windy and dry November and December followed, resulting in significant soil moisture deficits in Northland, Central North Island, Canterbury, and Otago.
- NZPA