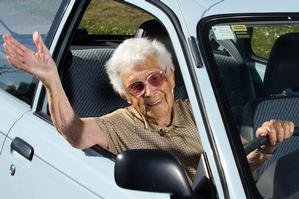 She's New Zealand's oldest licensed driver - older than Henry Ford's production line - but Ellen Noy is not one to take the easy route.
The 104-year-old's trusty Toyota Starlet has no power steering, and she reckons it gives her arms a good workout.
"If I don't get a straight run into a park, I have trouble getting out. So I have to use my noodle."
The Canterbury widow, born before the first Model T motorcar rolled off Henry Ford's production line, still lives in her own home and uses her car to go shopping, or for "little short runs" around her hometown of Kaiapoi to play cards or croquet.
In years gone by she would drive further afield, but "there's a lot of silly drivers around now".
Mrs Noy's daughter wants her to go to live with her in nearby Christchurch "but I want to carry on as long as I can".
"I wouldn't like to be without [my driver's licence]. I said to myself 'I won't be upset if I don't get my [medical clearance]', but I think I would.
Because I'm independent."
Figures from the New Zealand Transport Agency show that nearly 4000 of the 3.2 million licensed drivers on New Zealand's roads are 90 or over.
Of those, seven drivers are more than 100, with Mrs Noy the oldest. She was slightly taken aback at the number of media calls she was getting about it yesterday.
Mrs Noy said she had been driving for about 50 years and had managed to keep a spotless driving record.
"I'm not nervous driving. I keep alert. I've never had an accident or been picked up by the police. They have always said, when I have gone for a driving test, I was a good driver."
Asked about the criticism often levelled at elderly drivers as hazards on the road, Mrs Noy said: "Well, perhaps some people. I don't know really. I know the young ones are just too fast.
"You're coming out of the back of the shops, and they come around that corner at such a speed. They don't slow down when they should. Everybody is in a hurry."