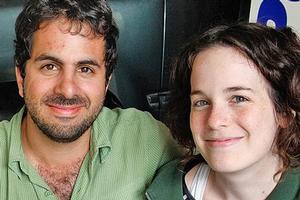 Police want more effort to be put into educating foreign tourists about driving in New Zealand to stop them dying on our roads and killing or injuring others.
Several overseas visitors have died in car accidents this summer.
In the South Island, police have warned tourists to slow down around popular spots such as Queenstown and Milford Sound.
Dozens of speeding tickets have been issued to visitors in the region over the holiday break.
One was caught driving at 151km/h, and many others at more than 140km/h.
"We don't want them going home in a wooden box," said Sergeant Geoff Sutherland, head of the Southland police highway patrol.
"And we certainly don't want them causing any more harm for any of us on the roads."
One idea is to work with rental car companies to ensure all tourists are given standard driving guidelines before they get behind the wheel.
"These tourists pretty much arrive in the country and within minutes they have got a rental car and they are on their way," Mr Sutherland said.
"And there's really nothing provided to them apart from a bit of verbal advice regarding our driving conditions and road rules."
Driver licences from any country are valid in New Zealand for up to a year. Anyone staying longer needs a New Zealand licence.
National road policing manager Superintendent Paula Rose said drumming the road safety messages into tourists was a major focus before next year's Rugby World Cup, when an influx of overseas visitors is expected.
Husband and wife Or and Shani Tuttnauer, from Israel, and Laurenz Selt, from Austria, have spent several months travelling around New Zealand and say that when they bought their cars, they were given no more driving advice than to keep left.
Mrs Tuttnauer said the hardest thing to get used to was coming off highways into small towns with only a couple of houses in sight and having to drop down to 50km/h.
Mr Tuttnauer said driving in New Zealand was more relaxed than in Israel, but the give-way rule at round-abouts, lights and intersections could pose problems.
"Some guidance would help; people can get confused," he said.
Mr Selt found it hard to adjust to the 100km/h speed limit on multi-lane highways.
In Austria, the limit was 130km/h and he knew nothing about driving in New Zealand before coming here.
"I bought a car and drove on the street - I got a lot of horns."
The first time Mr Selt came to a roundabout he had no idea what to do, so he pulled over and waited for all the cars to pass before going around the wrong way.
Three days ago in Auckland, he was given a ticket for parking in the wrong direction.
The Rental Vehicle Association says material is available for tourists on driving in New Zealand, and rental operators are encouraged to offer it to them. But tourists could not be forced to read what they were given.
"We can influence it to a level - we can make the information available and we can highlight it to them," said association chief executive Raewyn Bleakley.
"But beyond that it is the individual responsibility of those visitors to abide by our country's laws."
Tourist incidents on the roads:
December 22, 2009: Two Spanish tourists, both aged 34, are killed when their campervan and a truck collide head-on on State Highway 1, between Kawakawa and Whangarei. The truck driver is not hurt.
December 29, 2009: Drink-driving Swedish tourist John Svanberg, 22, crosses the centre line and crashes into another vehicle, injuring a woman.
January 2, 2010: American journalist Deborah Powell, 68, is killed when struck by a car near Blenheim.
January 5, 2010: A German woman, 19, on a cycling holiday dies after a collision with a truck in Manawatu.
In 2008, 5.5 per cent of all recorded crashes involved holders of foreign licences. Of these, 77 per cent were tourists.
Tourists involved in crashes were most likely to come from Britain, Australia and the United States.
- ADDITIONAL REPORTING: Kara Segedin