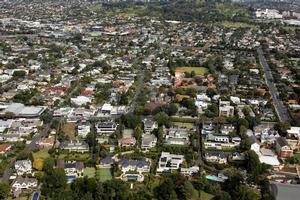 Nationwide house values ended 2009 just 4.9 per cent below the late-2007 peak, having been as much as 9.6 per cent below the peak last April, QV's residential index for December shows.
While the recovery was led by the urban centres, QV (Quotable Value) is now seeing signs of confidence returning to provincial markets.
For the whole of 2009, New Zealand house values rose 2.8 per cent, with an average sale price of $404,671 in December, up from $393,373 in November, when prices were 5.9 per cent below the peak.
The year had shown a dramatic and somewhat unexpected level of turnaround in house values, QV said in publishing the December figures today.
After reaching their peak in late 2007, house values dropped steadily throughout 2008.
At the beginning of 2009 two camps developed - those that considered the market had much further to fall, and those that considered it was near the bottom, and perhaps heading towards a good time to buy.
The property market was strongly influenced by consumer confidence, and as consumer confidence began to grow in 2009, so did property values in the main centres, QV valuation manager Glenda Whitehead said.
Driven by the main centres, nationwide values rose 5.1 per cent between the market bottom in April and the end of the year. For the main urban areas, the rise since April was 6.5 per cent, taking values in those areas to just 3.9 per cent below their peak.
Values in the Auckland area rose 5.2 per cent during 2009 and finished the year with an average house price in Auckland City of $615,459, on the North Shore of $586,075, Waitakere $405,573 and Manukau $467,501.
Wellington rose 5.1 per cent, Christchurch 4.6 per cent and Dunedin 4.9 per cent. Hamilton grew only 1.8 per cent and Tauranga ended the year with an increase of 0.1 per cent.
Provincial centres saw a less pronounced rise in house values during 2009, increasing 3.2 per cent from the low early in 2009 to now be 7.7 per cent below their peak, Ms Whitehead said.
The value of houses in rural areas remained relatively static for most of the year, but a rally late in the year led to values increasing 1.3 per cent since early 2009 to now be 6.5 per cent below the market peak.
Price changes varied considerably in provincial centres over 2009, with Whangarei ending the year down 5.2 per cent and Gisborne down 5.6 per cent, while Rotorua was largely unchanged with a 0.4 per cent gain, and New Plymouth lifted 7.1 per cent.
Reports indicated residential property listings had been more abundant in provincial and rural areas, with demand lower due to localised economic factors such as closures of local industries and subdued earnings for the rural sector dampening confidence, Ms Whitehead said. "There are now signs of confidence returning to the provincial markets, with activity in more recent months showing value increases."
For 2010, QV expected sales activity would lift in the first few months as owners who held off in 2009 decided to move.
"If the increase in values in the main centres is being driven by a lack of properties for sale, therefore an increase in sellers tempted to the market by the improved prices should see a levelling off in values," Ms Whitehead said. "However, there still remains debate about whether the current listing shortage is actually driving up values or rather there is actually an underlying shortage of houses in the main centres - that debate will no doubt continue."
A cautionary tone still prevailed in the market. Given the wider economic conditions, QV expected values to rise slightly throughout 2010, but not at the same rate as in recent months, she said.
"If the rebound in values were to continue at the present rate we will all too quickly regain ground lost since the peak in 2007, when the market was considered overpriced and highly unaffordable."
- NZPA