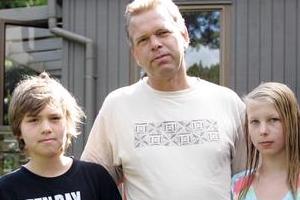 An Auckland family's idyllic summer break was wrecked when they were evicted from their Coromandel holiday home and left $1300 out of pocket.
The Vink family - who were renting a half-million-dollar holiday home in Te Kouma Bay - were dobbed in by a neighbour, who discovered they had nine people staying instead of eight.
The problem for the Vinks was that it was their second breach of the rental agreement during their six-day stay - on another occasion they had 12 people staying.
The family has taken aim at rental firm Bachcare saying it has been unreasonable but the company denies this, and says the family had been given appropriate warnings.
Marty Vink, who hired the $300-a-night bach, has been fined a $1000 penalty by Bachcare, lost his $300 bond and had an eviction notice slapped on his family.
The problems started after Vink booked the beachfront home - which boasts four bedrooms, two bathrooms, a fully equipped kitchen and large outdoor area - for his wife, children and family friends.
The bach sleeps eight but Vink had up to 12 people there during his stay, saying he did not realise this was a breach of the rental agreement. "I didn't read the terms and conditions and I didn't realise I was signing up to such specific rules," he said.
On the third day of the holiday, the bach manager turned up to say he was in breach of the terms and conditions.
"She advised us of the breach and then four people left. Nothing else was said. We asked to stay for another night and she agreed."
On the fifth day, Vink's mother and father-in-law came to stay, bringing the total staying at the bach to nine. During their stay they also erected a tent for the children to sleep in, also a breach of the terms and conditions.
"The manager came back to the property on the sixth day and all hell broke loose ... She knocked on the door with a trespass notice."
Vink admits the breach, but says Bachcare did not make the terms and conditions clear enough and he was not personally advised of the $1000 penalty charge during his stay.
"We're still in shock. We did some things wrong and we fully admit that but we never expected this. It's not like we were having wild parties and trashed the place. If I had known we were up for a $1000 charge for being a few people over I would have caught the ferry back to Auckland."
Vink says Bachcare's rules are "too restrictive", "stringent" and "unreasonable".
"I would have thought that at $300 per night you are entitled to reasonable use of a property and it would extend to un-anticipated friends or relatives dropping in and sleeping on the floor for a night or two. That's all part of a summer holiday at the bach, is it not? Bachcare should make them very clear, not hidden in a hyperlink in an email.
"Yes, I didn't bother to open the terms and conditions link - who has the time these days? But we have been renting baches and ski chalets for 15 years without an incident. This has really soured our holiday."
Bachcare spokeswoman Louise Murray said the matter was simple - Vink breached the terms and conditions and had to pay.
The nine-page terms and conditions state any breach "will not be tolerated and will result in bond forfeiture and possible evictions".
"Any significant breach of these items can result in an extra payment by the guest of $1000, per occurrence."
Murray said anyone booking baches online had to tick a box saying they had read and accepted the terms and conditions, which were reiterated upon confirmation of the booking. They were also outlined in a booklet in each bach.
Murray said an adult staying with Vink at the bach was told of the breach and the penalty the first time the holiday manager visited. "They were aware they had breached it previously but they went and breached it again." A neighbour alerted Bachcare to the additional guests after being asked by the owner to keep an eye on the property. It was the first time the owner had rented the bach out.
Murray said the company would not relent on the $1000 fee, charged to Vink's credit card.
"When they had breached it the first time we might have shown leniency and said just don't breach it again."
A spokesman for Netlaw, a New Zealand legal help and advice website, said Vink was bound to the terms and conditions.
"There are very few ways to challenge the unreasonableness of a contract if the signatories are adult and of sound mind. There is no specific statute which allows a court to say 'this is unfair and silly' and strike out the clause."
- HERALD ON SUNDAY