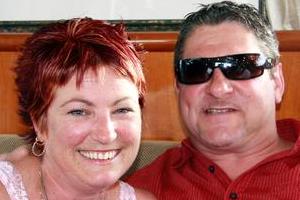 The partner of a man who died aboard a luxury boat during a Christmas party on Auckland's Viaduct says his death was a "terrible, horrible accident" - and told of how she watched the frantic efforts to save his life.
Claire Tynan took Darren Grace, her partner of five years, to her company Christmas party on December 18. The pair boarded the launch Quest II together, had a drink and mingled with her workmates from Pacific Hygiene as it set sail about 6.30pm.
"He was really excited. He loved boats, absolutely loved them. The party was great, we went under the Harbour Bridge and we were sitting on the front deck outside," she said.
"It was a lovely evening, everyone was happy and that's why it's even more sad because everyone was in great spirits. We were mingling and I don't know what happened but someone came up to me and said he was upstairs and they were trying to resuscitate him.
"I couldn't believe it, it was just like, no, this is not serious, it can't be right. But then I saw him lying on the ground. It's the last thing you expect when you go to a Christmas party."
The party had been going for only 90 minutes when Grace collapsed. He and Tynan had a photo taken together on the boat shortly beforehand. It is the last photo ever taken of Grace.
Some on the launch have reported that Grace had been behaving erratically and off-colour before his collapse.
But Tynan said Grace was acting normally and "really excited" about the party.
"He wasn't drunk - there wasn't time for anyone to be drunk unless they got on and just downed it. Maybe they didn't know him well enough ... he was absolutely fine."
She said he did not take illicit drugs and did not have any health problems. "He probably smoked too much but so do I. He was a builder, he lifted granite bench tops - he was as fit as."
Police, who have launched a homicide inquiry, have refused to reveal details of what they believe happened in the moments before Grace collapsed.
They said he died of asphyxiation but will not say if he was involved in an altercation or had to be restrained before he stopped breathing.
Police told Tynan on Friday that the investigation into Grace's death was "progressing". They have previously told his parents that one person had become the focus in their inquiries.
The day after the party, Pacific Hygiene director Rodney Downs told the Herald on Sunday that Grace started acting "a bit funny" just before he collapsed.
The skipper was worried about him and tried to calm him, but moments after he sat down in an upstairs area, he collapsed.
Tynan does not know what happened on the top deck of the boat but is adamant it was an accident.
"He didn't know any of these people ... it was an accident, just one of those things," she said.
"Time will heal. I don't hold grudges and there was no malice. I hope whoever it is doesn't think that I hold any hard feelings against them. I would say they would have have a very subdued Christmas, to put it mildly. I feel really sorry for them, the poor things. I hate it when I hit a bird in my car accidentally so can you imagine how they will be feeling ..."
She said a number of people tried to save him, including a trauma nurse. "I stayed most of the time they were working on him. But I couldn't watch all of it, I had to go downstairs. I kept expecting him to wake up. They worked on him for so long ... about 40 minutes at least."
When the launch returned to its berth, St John Ambulance paramedics went on board to treat Grace, but they also could not revive him. Police were then called in.
Tynan was taken to Auckland central police station where she called Grace's parents, Mike and Lynn, who were babysitting his daughter Chantelle.
"I didn't want to call them, I just wanted it all to go away."
Tynan said Christmas was "subdued".
"We were supposed to go camping on Boxing Day. He was going to buy me a tent for Christmas and we were going to go up to Spirits Bay at Cape Reinga."
She also spent time with Chantelle - Grace's daughter from a previous relationship - on New Years' Day.
"I went out with Chantelle and her mum and she's happy. I am sure she'll have her moments, but she's great. She talks about him and he will live on for her. She's a lovely little girl, just like her father."
- HERALD ON SUNDAY