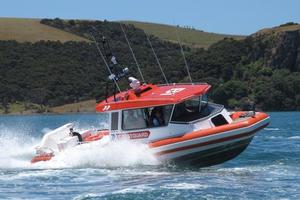 Coastguard volunteers were gearing up for their busiest weekend yesterday but leaders say many boaties who are rescued will probably refuse to pay costs.
Northern region's duty officer Katherine Andrews said since Christmas Eve, the organisation had dealt with 270 callouts, about average for this time of the year.
The organisation was on target to reach about 420 callouts for the month, with the middle weekends of January looking frantic, as people got out on the water before returning to work on Monday.
"[This evening] should be absolutely crazily busy," Ms Andrews said.
Not everyone who hits trouble will have to pay.
In a year, half of all callouts are from Coastguard members who, because they have paid a $95 cover fee, are entitled to free assistance if they get into mechanical trouble, capsize or run aground.
Coastguard has 12,000 members but not every skipper chooses the cover, Ms Andrews said.
About a quarter of all other callouts are covered by Police Search and Rescue and the remaining quarter are non-members who are asked to pay $280 an hour for rescue efforts.
Ms Andrews declined to say what the total figure for non-payment was, except that it was significant.
"Our recovery record is not too flash. Unfortunately a lot of people don't pay.
"Because we're a charity we can't send anyone around with a big stick to say, pay your bill. We do have some people who will break down and break down and break down and they don't pay.
"The perception is that Coastguard can do it."
However, that failed to take into account the fact that the organisation was staffed by 1000 volunteers up and down the region - only 15 in Coastguard were actually paid for their work.
Instead of taking their own big-stick approach, Coastguard was keen to promote the benefits of joining, which not only included unlimited callouts but discounted fuel and marine insurance, Ms Andrews said.
Of the 270 callouts this year 126, 47 per cent, were the result of mechanical problems - a constant frustration.
She said simple maintenance throughout the year could avoid many of those callouts.
COASTGUARD CALLOUTS
Northern region: Christmas Eve to yesterday
Adrift - 9
Aground - 15
Capsize - 6
Anchor - 8
Diver - 2
Electrical - 30
Fire - 4
Flare - 8
Fuel - 8
Mechanical - 126
Medical - 15
Overdue13
Person in water - 7
Taking water - 6
Other - 13
TOTAL - 270