In the first of a series about childhood holidays, Herald writer Steve Deane fondly remembers collecting pipis from the white sand of Onetangi beach on Waiheke Island with his brother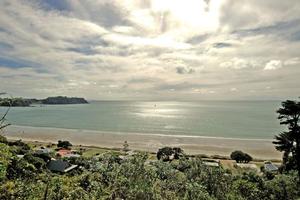 Food. In the pre-booze, birds and ballyhoo years of childhood, sensory pleasure predominantly came from food. I guess that's why food bribery - "I'll give you an icecream if you just shut the hell up for five minutes" - is one of the primary weapons in the parenting armoury.
It's also why, for me at least, so many childhood memories revolve around food. In this case it's the pipi, the humble shellfish that graces many New Zealand beaches.
These days, the pipis that end up on our barbie tend to have been gathered at Botany's Pak'nSave. The end result is the same, but it's a poor substitute for digging in the sand with your toes for edible treasure.
Pipis are well spread throughout New Zealand, but not so well spread that they could be gathered where I grew up in Wellington's land-locked Hutt Valley.
No, to me the pipi is inextricably linked to the beachside summer holiday, and to Waiheke's Onetangi beach in particular, where my grandad had his bach.
I never really knew Grandad. I met him often enough, on our annual road trip up the North Island to visit him and Nanna.
Typically he'd be at their Kepa Rd council house to greet us with a smile, and not much more, when we - Mum, me and my brother - arrived. But he'd quickly disappear on the next ferry to Waiheke.
I later learned that Nanna and Grandad weren't close in the later years of their marriage. Grandad, a naval sailor in the family tradition, had never quite been the same after the war, when his service included fighting in the Battle of the River Plate on the Achilles.
The Onetangi bach was his bolt-hole. Family trips there were a rare and welcome relief from endless hours running up and down Nanna's sloped garden trying not to get spiked by the choko plants.
My childhood memory is patchy - crystal clear on some details but foggy on the big picture. There was a white sand beach, a modest traditional Kiwi bach, perhaps with a frosted-glass main window in the lounge, situated down a narrow shingle road well back from the beach.
And, of course, pipis, collected at low tide and put in a bucket of water to expel the sand. Then boiled open, prised from their shells and marinated in a jar of brown vinegar and onion rings. It was probably only a few minutes but, to a 5- or 6-year-old, the wait until they were deemed ready to eat was interminable.
They didn't last long, and the onion rings might well have been scoffed too. Kids will eat pretty much anything that has been soaked in vinegar, as it turns out.
The bach was sold when Grandad died in 1993 while I was living in London. I've been back to look for it recently but I couldn't even find the shingle lane. It probably doesn't exist any more, with the area now predominantly home to flashy structures that only the outrageously wealthy would dare describe as baches.
But the white sand beach is still there and so, by all accounts, are the pipis.
My oldest daughter is 4 going on 5. This summer, I'll be taking taking her to Onetangi to hunt for pipis. Much like 30 years ago, I already can't wait.