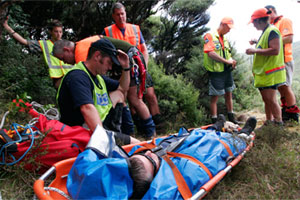 Incidents of tourists hiking in rugged terrain in Jandals and running out of food while out camping have led to the development of a NZ outdoors code.
The Outdoor Safety Code has been introduced by search and rescue, outdoor and tourism sectors after it was found that 245 search and rescue callouts last year involved tourists.
Many of those emergency callouts could have been prevented, had people been better prepared to be in the outdoors, said the police manager for emergency management, Gerard Prins.
"We hear stories of visitors attempting the Tongariro Alpine Crossing in Jandals, while others don't carry supplies because they assume there's a shop on the Heaphy [Track].
"Rather than be the ambulance at the bottom of the cliff, we want to help ensure all visitors don't get into trouble in the first place."
The new code, developed by groups including the Department of Conservation, the Accident Compensation Corporation and the Tourism Industry Association, is designed not only for tourists but also New Zealanders who visit a site that they are unfamiliar with.
Tourism Industry Association chief executive Tim Cossar said many tourists were armed with a cellphone, thinking that that was enough in the case of an emergency.
"But we need to tell them our weather changes quickly and in most parts of our remote backcountry, there's no mobile phone coverage - [it's] not a reliable method of backcountry communications," Mr Cossar said.
In the past few years, there have been several high-profile cases where tourists have been killed while exploring the New Zealand outdoors.
Among those were Israeli tourist Liat Okin, 35, whose body was found 1km from a main track in Fiordland in May 2008.
American tourist Raydene Shepard, 70, died while tramping the Tongariro Alpine Crossing in April 2006.
Her partner, Dennis McDougall, was barely alive when he was found by a rescue team.
Police said the couple's poor preparation - including wearing inadequate clothing and not checking weather conditions - contributed to the tragedy.
Mr Prins said police and search and rescue teams were being called out to up to eight incidents a day during the summer and were expecting a busy time in the next few months.
"Tell someone where you're going and how long you expect to be gone for," he said.
"Check the weather and be prepared for unexpected changes ... It's common sense, but it saves lives."
STAYING ALIVE
* Plan your trip carefully.
* Tell someone when you go and when you expect to return.
* Know your limits.
* Take sufficient supplies - a cellphone is no good in the back-country.