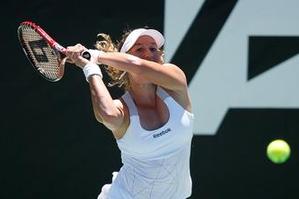 Protesters are planning to renew action against Israeli tennis player Shahar Peer's participation today in Auckland's ASB Classic.
The group, Global Peace and Justice, led by veteran protester John Minto, has sent Peer, 22, a letter asking her to withdraw "as a demonstration of your commitment to peace".
Mr Minto's group is opposed to Israel's treatment of Palestinians and supports a boycott of the country, including sporting contacts.
Peer's appearance in last year's tournament coincided with a major Israeli offensive against the Gaza Strip. About 20 protesters gathered outside the courts and called for her withdrawal.
At the time she said the fighting was "not easy on any of us" but was surprised to have been singled out as she was there to play tennis, not to be involved in politics.
The letter, sent to Peer yesterday, acknowledged it was a "significant sacrifice" she was being asked to make.
"Because of your high profile in Israel you could assist peace efforts greatly by speaking out against Israeli government policy. Your silence will indicate to us your sympathy with (the Israeli government)."
Global Peace and Justice today said sport was a key part of the boycott campaign.
"It is more visible than a trade or investment boycott and can have an important psychological impact.
"We saw this with the successful sports boycotts against apartheid (in) South Africa."
Iranian media yesterday reported a spokesman for Iran's soccer federation had resigned after an email offering New Year's greetings to Fifa members was mistakenly forwarded to Israeli officials.
Iran has not recognised Israel since 1979 and the country's athletes avoid playing Israeli competitors in international matches.
The unseeded Peer is ranked 30th in the world and is scheduled to play Slovenia's Polona Hercog this morning.
- NZPA