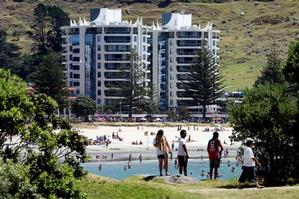 Despite tough economic times, many home and bach owners from popular holiday destinations are renting their properties out to guests for up to $1000 a night.
The Frangipani Pad holiday home at Waihi Beach fetches $4500 a week and comes with a salt water pool and waterfall, landscaped grounds and private beach access, while luxury beachfront accommodation on Waiheke Island at "Brent's House" costs between $695 and $995 a night for up to 10 guests. A four-bedroom home on Mt Maunganui's Marine Parade was advertised for $3850 for a week over New Year.
There are plenty of cheaper options available - a water's edge, two-storey home in Mangawhai Heads can be rented for between $180 and $250 a night and a Waiheke Island property, five minutes' walk from Orapiu Wharf, costs $120 to $180 a night.
Leslie Preston of Bachcare Holiday Homes in Mt Maunganui said a new trend this year was for shorter breaks, which had led to a higher use of baches as accommodation.
Bookings have gone up in both Mt Maunganui and Papamoa. "We are seeing a lot of people going away for what we are calling 'short, sweet treats'," Ms Preston said.
"Whether that's a sign of the economy or not, I don't know. But the classic Kiwi holiday is never going to disappear."
Homes in Mt Maunganui and Papamoa start at about $125 a night over the peak summer period, with big houses fetching over $400, according to Ms Preston.
Even a two-bedroom home at Mt Maunganui, two minutes' walk to the beach, costs $215 a night at this time of year.
But anyone hoping to book a house in the past few months would have been out of luck - most homes were booked out by July, Ms Preston said.
A Papamoa home owner who listed his site on Bachcare was shocked to find that it was rented within an hour of being online.
For some families, renting out their home is an easy way to make a dollar.
One Mt Maunganui family rent out their four-bedroom home while they go away for their summer holiday. And the house, which has a swimming pool and a trampoline for the kids, was in hot demand for holiday accommodation.
The family asked for $375 a night between Christmas and January 10, and $275 a night for the rest of January.
- NZPA