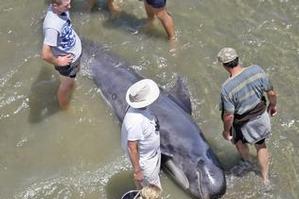 Coromandel Maori will today bury 21 pilot whales that became stranded and died despite the efforts of hundreds of holidaymakers.
An outgoing tide early yesterday morning at Colville Bay, north of Coromandel township, caught 63 cows, many of them with calves.
Fishermen saw the whales, most between 3m and 4m long, struggling about 300m offshore around 6am and called the emergency services.
When Department of Conservation workers arrived two hours later, 21 whales had died.
Up to 500 residents, iwi members and holidaymakers helped to keep the remaining whales wet.
When the tide rose in the early afternoon, 42 whales were refloated.
"The community here were phenomenal," said DoC spokeswoman Katrina Knill. "It was sad to lose a few, but we were lucky it was the middle of the holidays and so many people - up to eight a whale - could help."
DoC staff would remain at the beach overnight to ensure that the whales, many of which were still disoriented, would not become stranded again.
There was a murmur of relief as the pod seemed to be heading out to open water, but many helpers were distressed by the sight of the dying.
Mike Steers, an English tourist who began helping the rescue at 9am, said his wife had been in tears all afternoon. "She felt so helpless. We were glad we could do a little, but it is a difficult sight."
DoC senior adviser Mike Donoghue said the bay was a typical place for whales to become disoriented.
"It is shallow, sloping and sandy. Their sonar would have shattered in the sand and had a weak signal return."
There was also a possibility that the whales became stuck while waiting for sick members of the pod to swim out of the bay.
The dead whales were being watched over last night by local iwi Ngati Tamatera before a burial ceremony today.
Security was required as some local fishermen were keen to remove the whale meat and teeth.
Iwi member David Hamon said local Maori would place the whales in graves at the northern end of the bay.
"It's a sad moment. Maori have a strong, strong connection with whales. We treat them as we would our dead on the marae. You don't leave your dead by themselves."