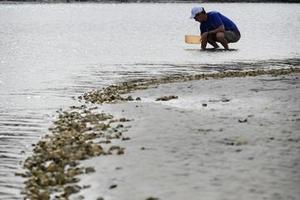 Fishery officials aim to ban recreational harvesting at the biggest shellfish beds near Auckland, saying a natural disaster has wiped out 80 per cent of breeding-size cockles.
A three-year ban at Whangateau Harbour, 70 km north of Auckland, could start as early as February.
Ministry of Fisheries spokesman Allen Frazer said the beds were vulnerable to depletion from over-harvesting after a massive hit from disease and parasites between January and May.
By August, investigations showed deaths from the combined effects of a parasite and a bacterium. The very high count of parasites and mycobacterium in shellfish were rare events.
One explanation was that high temperatures coupled with midday spring tides caused heat stress - weakening the cockles to infection.
A total of 243 million cockles out of a population of 386 million of all sizes are estimated to have died.
Since then, iwi and residents' groups around the 10sq km harbour have called for a harvesting ban to cover this summer holiday season when thousands will gather a feed.
Whangateau HarbourCare Group spokesman Dr Roger Grace said that as many beds near Auckland become depleted, more pressure is applied to the Whangateau beds.
The ministry's process of deciding bans had taken too long and he had put up signs suggesting a voluntary ban.
"We trying to protect what's left so they will breed and stocks recover but not many are taking any notice."
Yesterday, shellfish gatherers spoken to by the Herald favoured a ban - despite it depriving them of a delicacy they enjoyed for many years.
"Dead cockles lie thick on the sand and I think the beds should close for three years," said Gordon Ashton, who for 60 years has made pipi fritters from the bounty in the clear waters of a channel 200m from his bach.
"We can look forward to when the ban comes off and there are plenty for future generations."
At another part of the harbour, Leigh residents Paula and Andrew Widdowson took 15 minutes to gather their daily legal limit, which is 50 cockles and 50 pipi a person.
"I have never seen a cockle patch like this," she said."Normally you don't have to dig into the sand - they were lying there. We would live with a ban if it meant a return to the days of abundance."
A party of 10 from Mangere holding their annual picnic found it harder going in the deeper channel waters.
"After digging four holes I found one of taking size," said Taura Tipene. "They are more spread out than in other times and getting fewer and smaller."
Mr Tipene said he believed a temporary ban would restore numbers and deter the taking of undersized specimens. On a previous visit he saw three people walk off with a sack of cockles ... "you can guarantee not all of them would be eaten".
Mr Frazer said a public consultation on any ban was required by the Fisheries Act. This finished on December 24 and most of the submissions supported the ministry's recommendation for a three-year closure of both cockle and pipi beds.
Officials would look at submissions early in 2010 in time for controls to apply in February.
Omaha Residents Association president Graham Painter said well-attended public meetings months ago supported a ban.
"People recognise the feature we have here and it is a unique resource that needs to be looked after."
* Shellfish restrictions
Whangateau Harbour, near Warkworth: Proposed ban on taking of cockles and pipi.
Mt Maunganui, Bay of Plenty: Change in the daily bag limit for mussels from 50 to 25 per person comes into effect on January 14.
Cockle Bay Howick - a summer ban applies to all shellfish.
Umupuia Beach (Duders), Maraetai: A two-year ban on harvesting cockles ends in October 2010.