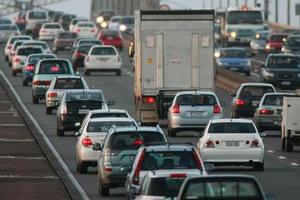 Two of the best months recorded on New Zealand roads have given officials hope that there will be fewer than 400 deaths this year.
With just five days left of 2009, the toll for the year stood yesterday at 377.
Although that was 11 higher than for all of last year, record low fatalities for October and November have averted fears of a much higher number of deaths.
That is despite a grim Christmas Eve, when four people were killed in road smashes, followed by the death early yesterday of a man flung from his car after it rolled down a bank from State Highway 1 north of Ngaruawahia.
According to the Ministry of Transport, November's 20 road deaths and October's 22 fatalities were the lightest casualty rates for those months since records began in 1965.
That has set Transport Minister Steven Joyce wondering whether a heightened awareness of road safety coinciding with rule changes on November 1 - including the ban on using hand-held cellphones at the wheel - has encouraged drivers to take more responsibility for their actions.
"With the cellphone ban and the [preparations for a new] transport safety strategy, there has been quite a lot of discussion about road safety in the last couple of months in the media," he said on Christmas Eve.
"That might have got people thinking a bit more about the way they drive and the responsibility they take when they drive a car."
Mr Joyce admits to feeling a lot more optimistic than after several bleak months such as September, when 37 people were killed on the roads compared with 24 for the same time last year, and the 12-month rolling toll ran at 411.
He has long been resigned to coming nowhere near to last year's toll of 366 deaths, the lowest since 1959, believing that was an abnormal result helped by high fuel prices and a consequent reduction in driving.
But he hopes the improvement in October and November will be matched by drivers' willingness to embrace a package of measures he expects to recommend to the Cabinet in February or March for a new national road safety strategy for the next 10 years.
"We don't want to get too excited about it, and let's face it, they were a couple of very good months on the back of some very poor months," the minister said.
"But for all that, it's good if people are taking it more carefully and are more considerate with other drivers," he said.
The new strategy is being devised amid the looming failure of targets set by Labour in 2002 of no more than 300 annual deaths and 2200 serious road crash injuries by the end of next year.
Mr Joyce reaffirmed a focus on young drivers and alcohol for the new strategy.
"If you look at some of the reasons why New Zealand has a high fatality rate compared to Australia, a lot of that's tied up in that [young] age group," he said.
"There is also a focus on alcohol, particularly with at-risk people - both young people and recidivist - and another will be a plan for improving the engineering of our roads, particularly our busiest highways."
Holiday road toll (4pm December 24th - 6am January 5th)