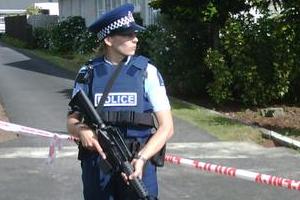 The policeman who was shot three times in the Manukau suburb of Papatoetoe could have died had he not got immediate medical assistance, police have said.
Superintendent Mike Bush said police have spoken to surgeons at Auckland's Middlemore Hospital who have operated on the constable today.
"They believe if he hadn't received medical treatment as soon as he did, he may no longer be with us," Mr Bush said.
He said 28-year-old was shot three times, once in each leg and once in the elbow, and lost a large amount of blood in the early hours of this morning.
The officer was shot during a routine patrol at 4.10 am in Buckingham Crescent.
Police have found three guns, including a shotgun, a high calibre pistol and a rifle.
"It is too early to tell which firearm caused the injuries, however we know it was a high calibre firearm," Mr Bush said.
Police talk to suspects
Mr Bush said two people are being interviewed by police this afternoon and at last one of them was likely to face charges.
He was flanked by Assistant Police Commissioner Viv Rickard, at a press conference at the Manukau Police Station today.
Mr Bush described the shooting as a "complex incident" and said forensic officers, ESR forensic scientists and a specialist search team were still at the scene.
Mr Bush said the police are still searching for one or two other people, but it was unclear what their involvement was in the shooting.
Policeman seriously wounded
He described the wounded police officer as a local Manurewa man and "a very passionate police officer".
The officer, who has only been on the job for one year, is now in the ICU ward at Middlemore where he is recovering, but heavily sedated.
"One injury was particularly serious as it struck his femoral artery".
Mr Bush praised the police officers who risked their own lives to rescue the officer after he was shot.
He also appealed to residents in the area to keep an eye out for guns or clothing that could have been dropped on their property.
How the incident unfolded
Mr Bush earlier told a media conference the constable and another officer were on a routine patrol when they saw a vehicle in a driveway with its hazard lights on.
"Thinking the vehicle may be being interfered with - they approached the vehicle and got out to have a look.
"One of the officers was fired at from the darkness," he said.
Mr Bush said the officer had injuries to his elbow and leg and lost a lot of blood.
His colleague called for back-up and armed detectives and constables arrived "shortly thereafter" and dragged the wounded officer to safety where ambulance staff were waiting.
Mr Bush said the constable was "extracted" because police did not know if the gunman was still on the scene or what danger they may have faced from further gunfire.
"I applaud that decision, and I think the actions of the six or seven staff that went in as a team to extract the constable were also very brave actions," he said.
Brave rescue
Assistant Police Commissioner Viv Rickard visited the scene of the shooting and also said the decision to go in and rescue the wounded police officer was gutsy and brave.
"Our person on the ground [the officer in charge] makes an assessment of what's before him and at that stage made an assessment that the action to take was to move forward," he said.
"It is gutsy. We saw that in Napier [when police officer Len Snee was shot dead in May] and in other places throughout New Zealand in the last 12 months and we have seen it again here again today."
Mr Rickard said rescuing a fallen colleague without knowing the location of the gunman was "pretty brave".
"It was pretty gutsy and I am pretty proud of what they have done."
- with NZPA