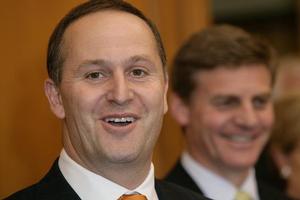 Support for the National Party averaged 52 per cent during 2009 and peaked at 54 per cent, the highest rating since tracking began in 1991, UMR Research said today in its annual Mood of the Nation report.
However, National ended the year with a slight drop, going down to 48 per cent which was its lowest since the immediate post-election period.
National won last year's election with 44.9 per cent of the party vote.
The Labour Party hovered in the low 30s for most of the year, with ratings between 30 per cent and 32 per cent.
In contrast to National, it ended the year on 35 per cent which was its highest since before the last election.
Labour's election night figure was 33.9 per cent of the party vote.
The Green Party regularly received more than 7 per cent support - it won 6.7 per cent of the party vote in the election - and nearly reached double figures in February with 9.8 per cent.
The party's only poor result was in November when it recorded 5.9 per cent.
ACT, despite its leader and deputy leader holding ministerial portfolios, rated below its election night 3.65 per cent. It started the year on 2.8 per cent and ended on 2.4 per cent, with a peak of 3.8 per cent in September.
The Maori Party's support was stable throughout 2009, hovering between 2 per cent and 3 per cent. It won 2.3 per cent of the party vote in the election, but it won five electorate seats.
United Future, whose leader Peter Dunne is Minister of Revenue, averaged just over 0.5 per cent compared with its election night 0.87 per cent. It was the lowest of the parties covered by UMR Research, peaking in January at 1 per cent and dropping to zero per cent in May and July.
New Zealand First, although it didn't win any seats at the last election, started 2009 polling at 2.2 per cent and ended on 2.7 per cent. Without an electorate seat, NZ First will have to reach the 5 per cent threshold in 2011 to return to Parliament.
Prime Minister John Key rode a wave of popularity throughout most of 2009.
During 2008 his favourability rating ("very favourable" or "somewhat favourable") was consistently in the mid 60s, but it jumped to 75 per cent at the beginning of 2009 and then stayed in the high 70s throughout most of the year. Mr Key's rating peaked at 80 per cent and then 81 per cent in June and October.
No other politician, in a series dating back to 1996, has recorded a favourability rating as high as that.
The proportion of voters with an unfavourable opinion ("somewhat unfavourable" and "very unfavourable") was low for a politician, moving between 16 per cent and 20 per cent for most of the year.
However, his unfavourability rating climbed to 22 per cent towards the end of the year, reflecting the slight drop in National's popularity.
Labour leader Phil Goff's favourability rating fluctuated between a low of 44 per cent and a high of 51 per cent, while his unfavourability drifted between 27 per cent and 38 per cent.
Towards the end of the year his fortunes followed the same pattern as Mr Key's, with the proportion of unfavourable opinion increasing.
- NZPA