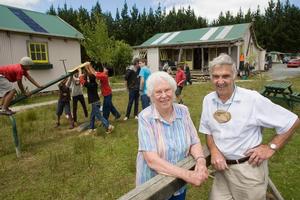 An adventure camp that lets boys be boys and, in the process, helps them to read will soon be able to take on more troubled youngsters.
Arapohue Bush Camp Trust runs the Reading for Rascals programme at Windy Ridge Boys Farm, Warkworth.
It is an alternative programme run by Graham and Joan Crawshaw for boys struggling to achieve literacy in the traditional school environment.
The couple opened their first camp in 1962 on the family farm near Dargaville and have been working with underprivileged children ever since.
The $10,000 donation from the 12 Days of Christmas will go towards upgrading the bathroom, waste-water and kitchen facilities, which will mean the camp can take on more boys.
The couple believe that poor literacy often correlates with delinquency and prison.
The back-to-basics camp lets children experience life 1900s-style with no electricity, simple foods and games, and plenty of outdoor activities.
"I had such a brilliant childhood and I looked round for something worthwhile to do, so we started taking underprivileged children into our camp," Mr Crawshaw said.
The camp serves a dual purpose by restoring the children's lost boyhoods and improving their literacy.
Mr Crawshaw is a strong believer in the phonics system of teaching reading, and so far it has been successful with the boys.
"It's so simple, they just lap it up."
The boys come to the camp through CYF referrals, health groups, Barnardos and private organisations.
"A lot of these boys are very difficult - well, they're not difficult, they're just boys," Mr Crawshaw said.
Most are from broken homes and often from one-parent households.
"We target the ones at the very bottom of the heap because we find that at the very bottom we can make the most dramatic change in them."
Boys stay overnight from Monday to Friday, and the team works on their diet and behaviour.
Mrs Crawshaw organises all the food. Said her husband: "They have a very basic diet. Some have never eaten with a knife and fork; some live on takeaways."
* Keep the change
This Christmas, the New Zealand Herald is featuring 12 hard-working charities which have been selected for a $10,000 donation from Auckland International Airport.
The winners were chosen by an independent group of advisers for the company, which collected the $120,000 from change left by travellers this year.