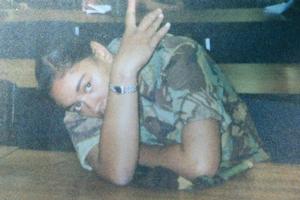 Have you heard of Mairina Dunn? No? Nathan Fenton, perhaps? I'll bet you've heard of Sophie Elliott and Clayton Weatherston.
Mairina Dunn was a pretty Maori girl of 17 who lived in Whangarei. Like many teenagers, she thought she knew best when it came to boyfriends.
Her mother, Queenie, didn't like her brief relationship with Nathan Charles Fenton, a patched member of Black Power. Queenie hoped her daughter had left Fenton and was moving forward after a successful stint in the army.
But in August 2006 at 3am, Fenton dragged the sleeping Dunn from her bed, accused her of being unfaithful, then, when he didn't believe her denials, he beat her with a shotgun for an hour and a half.
When three people tried to stop him or call police, he threatened to shoot them.
Then he bashed Dunn for several more hours.
Her lifeless body would lie in the house for 12 hours before anyone could call for help.
So appalling were her injuries, the pathologist wasn't sure what killed her - the head injuries or the punctured lung.
When Fenton was finally arrested, after hiding from police for days, Dunn's whanau wept, hurled abuse and packed the court in Whangarei so lawyers had it closed, until Judge Duncan Harvey ruled it should be open. In January 2007, to very little media coverage, Fenton pleaded guilty to murder and received the obligatory life sentence.
This story is just as dreadful as that of the Elliott family. But who, aside from her whanau, really cares about a little Maori girl who shacked up briefly with a gang member?
The same pain affects the families of Mairina Dunn and Sophie Elliott, but because one family is articulate, educated, middle-class and well-connected, they can get themselves on national media and make politicians listen.
The other family, not accustomed to adopting the stiff upper lip for whatever reason, almost gets itself barred from court because emotion and grief spill over.
Why do I risk accusations of cold-heartedness writing this? Because the Government's calling for submissions to amend the Victims Rights Act and the stridency of Sensible Sentencing (which is anything but sensible) threatens the right to a fair trial in this country.
This week Gil Elliott opened his campaign for victims to have a major contribution towards the accused's sentencing.
"Murder," he told Sean Plunket on Morning Report, "should not be a crime against the state - it should be a crime against the victim and the victim's family."
Like hell it should; that way lies madness. I could picture listeners nodding in agreement as they pictured Elliott's lovely daughter and her truly vile murderer.
But under Elliott's scenario, what happens to cool, objective justice when Fenton, a Black Power member, who's guilty of beating to death a young girl, is sentenced? Her whanau has already yelled out in previous court sessions what they'd do to him - most of it illegal.
Should hard-scrabble, inarticulate families, whose only interaction with media is the two-fingered salute, be denied the same say in sentencing as the nice, respectable parents of a slain white middle-class graduate?
And what happens when sentences are appealed - do victims traipse along again?
We do have judges. We do have juries. They're not always perfect, but most of the time they get it right - as they did in the Weatherston trial.
As James Rapley, criminal barrister and lecturer in criminal law at Canterbury University, said recently on these pages: "I have a lot of sympathy for victims, and victims' rights groups are well-meaning, but we have to remember, the criminal justice system is not there solely for the victim, it is there for society."
- HERALD ON SUNDAY