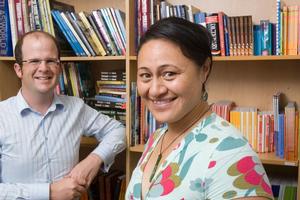 Teaching children to love reading is the mission of Duffy Books in Homes.
Duffy Books is a literacy charity aimed at breaking the cycle of "booklessness" among Year 1 to Year 8 children at low-decile schools in New Zealand.
The charity intends to use the $10,000 from the 12 Days of Christmas to cover the full cost for two South Island schools that are new to the programme.
This means over the course of a year 4000 books will be delivered to 800 children in the schools.
General manager Linda Vagana said the charity is all about book ownership and gets children involved by letting them choose their own books.
"It's also about the importance of reading and ensuring the kids are inspired to read."
The programme, which began in 1995, reaches 555 schools and more than 100,000 students. The charity has given more than six million books to students from decile one to three schools around the country.
It is similar to the Lucky Book Club, but minus the price tags. Children receive three brochures a year and get to pick two books each time.
They also get an extra book sponsored by the Government as part of Government Book Week.
"They don't need to worry about having to see how much the books are. That was always an issue for me growing up - not being able to afford the books."
There are several activities that make up Duffy Books in Homes, including a travelling theatre group and awards. "Just about every month during the year we're reinforcing how cool books are," said Ms Vagana.
The team hears daily from schools, families and children telling them how great the programme is and research has shown children on the programme make the effort to read over summer.
Duffy tries to create excitment around the delivery of new books.
Each time the books arrive at the school an assembly is held and a New Zealand personality presents the books.
"It's pretty exciting for the kids and hopefully that's going to spill over to their younger siblings."
Communications manager Phil Horobin said all low-decile schools are eligible for the scheme - the only other criteria is they have to be willing to cover half the cost of the programme.
* Keep the change
This Christmas, the New Zealand Herald is featuring 12 hard-working charities which have been selected for a $10,000 donation from Auckland International Airport.
The winners were chosen by an independent group of advisers for the company, which collected the $120,000 from change given by travellers this year.