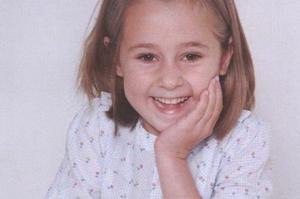 Six-year-old "Princess Amber" Vincent had already organised her family's Christmas, which was to include a candy-cane treasure hunt.
But yesterday, the "Daddy's girl" was farewelled by at least 200 people at the school she excelled at, ACG Strathallan at Papakura, where her tiny white coffin sat adorned with bunches of flowers.
Amber was killed on Saturday after the quad bike she was riding rolled at Thundercross Valley Bike Park near Huntly.
Her father, Jody Vincent, supported by her mother, Claire, spoke briefly through tears of his love for his little girl.
"Everything was a competition for me and her. I don't know how I'm going to live without her ... I'm going to miss holding her, kissing her all the time. She never left me alone."
Dozens of relatives and friends also shared their memories.
Family friend Adrienne Booth delivered the eulogy and described Amber as mature beyond her years.
"Not just a beauty", Amber had recently gained the top place in science for her year.
She doted on her younger sister Summer and baby brother Emerson and had organised games for her family for Christmas.
Amber's "petrol-head tendencies" had blossomed early thanks to her father. "But this was no rough-and-tumble tomboy," Mrs Booth said.
"This was Princess Amber ... She graced every adventure park and playground with her gorgeous presence.
"To say six years was not nearly enough is a hopelessly inadequate understatement."
Amber's grandparents on her mother's side, Noel and Jane, said their granddaughter had sent them a letter a couple of days before she died which said: "Dear Nana and Granddad. I just want to tell you how much I love you. Lots of love, Amber."
The head of Strathallan School, Carolyn Shapcott, told of an incident in which one of Amber's classmates was upset. She went over and started rubbing his arm to calm him, and then encouraged him to participate in the game the class was playing.
"As the head of the school, you usually know all of the students by face and name but you don't usually get an insight into their individual personalities," Ms Shapcott said. "Amber was always a cheerful, happy little girl, smile always at the ready."
Police have said brake failure is being considered as the most likely cause of the crash.
Amber, who was wearing full safety gear, was going down a steep bit of track when her bike tumbled.
Her father was following behind and tried to give her CPR.