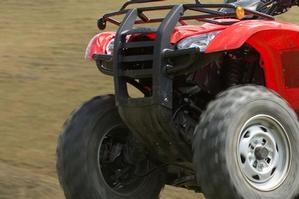 The Government, Federated Farmers and the Children's Commissioner have rejected the idea of banning children from riding quad bikes, despite the death of a six-year-old girl at the weekend.
Emergency services were called to the Thundercross Valley Bike Park, 20km west of Huntly, about 3pm on Saturday after Amber Taylor Vincent was killed.
It is understood she was with her father at the park and was wearing a helmet while riding the bike.
Two cabinet ministers have dismissed calls for quad bike law reforms after the accident.
Labour Minister Kate Wilkinson's spokesman said there were no plans for a minimum riding age.
A coroner's report into the 2002 death of eight-year-old Rebecca Brittain recommended age limits for quad bikes.
Research published in the New Zealand Medical Journal in September found 16 children were killed and 216 hospitalised in quadbike, or ATV, crashes between 2000 and 2006.
Federated Farmers also said there was no need to enforce an age restriction on the use of farm bikes.
Guidelines regarding the use such quad bikes say that children under 12 should not be permitted to drive them.
Federation health and safety spokesperson Donald Aubrey told Radio NZ it would be unnecessary to enforce an age restriction.
Education was the key and it was important young people, particularly between the ages of 12 and 15, were given proper tuition when learning to ride all-terrain vehicles, he said.
Children's Commissioner John Angus was also not convinced an age restriction was the best way to reduce the number of deaths and injuries.
The figures showed about three children aged 0-14 years died each year from ATV accidents and about 50 injured seriously enough to require hospitalisation, Dr Angus said.
"On the face of it, it would seem to be difficult to enforce any kind of age restrictions, given that most ATV use is on farms and recreational blocks that are private property.
"We should be working to reduce the number of injuries and prevent any deaths of children, and I think education is a better course of action than enforcement.
"There is a lot of knowledge about safe use of ATVs in rural communities in New Zealand and it is important that knowledge is available to all parents whose children have access to these types of machines."
A Department of Labour spokesman said yesterday that investigators went to the site soon after the accident happened.
The investigation is expected to continue today and could take up to six months, depending on the complexity of the case, the spokesman said.
A memorial service for Amber is being held on Wednesday in Papakura.
Family and friends paid tribute to her in emotional family notices.
"A beautiful young girl taken from her family too soon," read one. "She will be dearly missed."
Another said: "A wee angel taken too soon."
James and Fiona Fowlie own the 300ha bike park, which attracts off-road enthusiasts from Auckland and Waikato.
Competitive motocross rider Nick Fowlie helps to run it.
"The bike went down a sort of a steep bank and it rolled on top of her and ... the bike crushed her head, well, crushed her helmet, giving her brain injuries," he told Newstalk ZB.
In another quad bike incident at the weekend, the Youthtown Trust rescue helicopter responded to a call from a forest along Poihipi Rd about 8km north of Taupo.
A 38-year-old man broke ribs when he fell while quad biking with friends.
He was treated by St John paramedics and flown to Rotorua Hospital for treatment.
- NZPA and Vaimoana Tapaleao