Open-mindedness and a collaborative approach are two things to look for, say Greg Clark and Michael Barnett.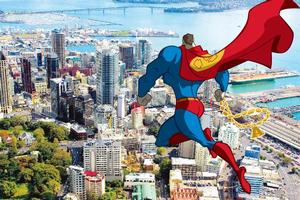 In October 2010 Auckland will have for the first time elected a metro-mayor for what has been referred to as a Super City. It may well be by New Zealand standards, but alongside those cities we like to compare and compete with, it is far from a super city - but it does have potential.
Though we may achieve a mayor to provide metropolitan governance, the expectation of the people in this region should be that we will achieve a leader, and the dividend from that leadership should be significant.
We have not seen this type and style of leadership in the process of change so far but Aucklanders should expect nothing less.
During his recent visit Greg Clark discussed what the keys to success might be for a new Auckland leader, and based on his experience we identified what might be the 10 habits of a successful metropolitan mayor.
1. Vigorously promote Auckland's image and identity. It will be important to differentiate Auckland and give it a meaningful presence on the global stage, so our mayor must first articulate then communicate Auckland to the world. Promoting the city and all it does positively builds visibility internationally and begins the task of renewing a sense of pride.
2. Plan actions and set priorities. A part of a mayor's manifesto should be in the form of a spatial plan for the city region which will give everyone an unequivocal sense of what will and will not be done. This should be done knowing that it will not be possible to please everyone.
3. Do not spread the jam too thin. Less is often more for metropolitan mayors. Critical mass should be built up behind a set of mayoral priorities and delivery on them should not falter.
4. Be collaborative. The most important source of support for a metropolitan mayor is from central government. It is important that the mayor goes to central government with a persuasive case for support, and can leverage expertise and resources beyond compare.
Seek business and institutional partnerships. The role of business and institutions in a city region's success is fundamental. As well as business institutions such as universities, hospitals and cultural organisations are now prominent in the governance fabric of successful cities. They should be embraced and be part of all planning and delivery efforts.
Reach out for support. Metropolitan areas are diverse and populated with a wide variety of sectors including industry, media, creative and knowledge clusters, plus sporting and recreational groups.
Act in a cross-party manner. The election cycle is one thing but the business of cities should not be put at risk by political wrangling. It is fundamental to leverage goodwill and talent from all parties, and obtaining a consensus around the future long-term direction of a city is a prerequisite for success.
5. Focus on delivery. Mayors build a reputation on what they do, not what they didn't do. It is important to be bold, passionate and ambitious, and while it is impossible to appease everyone in the region, progress comes from decisive actions.
6. Be open-minded. The challenges and opportunities associated with a successful city region will require an open mind and a solution-based approach. New talent and ideas need to be merged with the old to answer the challenges.
7. Raise the investment rate. There is no point having great plans that sit unrealised because of a lack of investment. The ability for a metropolitan mayor to reach out to new and innovative funding sources is critical to ensuring plans are realised.
8. Be willing to create new entities to deliver priorities if no willing entity exists.
9. Be prepared to change the rules. Operating within a constraining framework will often be a reason for a lack of action. Metropolitan mayors must be tenacious in their pursuit of securing the tools required to govern and deliver.
10. Pursue re-election without compromising the task at hand.
* Michael Barnett is chief executive of the Auckland Chamber of Commerce. Greg Clark is a specialist on city building, investment and strategies for globalisation based in London.