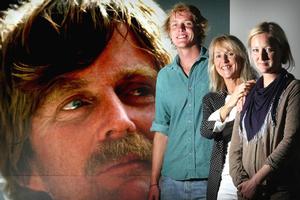 Trying to encapsulate Sir Peter Blake's life, work and achievements in one exhibition was always going to be a huge task.
Many have grappled with how best to honour the man regarded as New Zealand's finest yachtsman, who was murdered by pirates on the Amazon River in Brazil a little over eight years ago.
But Lady Pippa Blake, Sir Peter's widow, believes a new memorial in Auckland has nailed it.
Blue Water Black Magic - A Tribute to Sir Peter Blake, will open tomorrow at the Voyager New Zealand Maritime Museum on Auckland's waterfront.
It is the culmination of a six-year project costing $9.5 million, created in partnership with Te Papa, the Government and the Auckland City Council.
Lady Pippa is certain her husband would have been proud and humbled by the result.
"Obviously we're really sad that Peter isn't around to be part of this, but this is something that is carrying on his legacy and he would have been really humbled by it," she said.
"It's not a sort of museum looking backwards. While there's the history and the great memories, to me it's very forward-looking - you're taking something with you."
The centrepiece of the new three-level annex housing the exhibition is NZL32, the boat Team New Zealand - with Sir Peter as syndicate head - sailed to America's Cup victory at San Diego in 1995.
The exhibit links Sir Peter's life with New Zealand's maritime history and profiles many other key players, innovative designers and thinkers in the boating industry.
The exhibition includes a a documentary screened in a theatrette, in which Sir Peter's life is seen through the eyes of those who knew him.
Voyager chief executive Paul Evans said the aim of the exhibition was to honour Sir Peter himself, as well as his considerable sailing achievements.
"Peter's life was so varied and so rich and we wanted to make sure we got the right mix of it, not only looking at his yachting success," he said.
"Something we've really tried to explore is his legacy in terms of his leadership, his advocacy for the environment and that sort of thing."
Sir Peter's daughter, Sarah-Jane, has extra reason to be proud of the exhibition. Working with Workshop e, a Wellington company that creates exhibitions for museums and galleries around the country, the 26-year-old had a hands-on role in piecing together her father's life to share with the public.
"It was quite surreal at times - you'd be cleaning cases and finding stuff that used to be in your attic displayed inside it," she said.
Sarah-Jane and brother James, 22, can now lay claim to having their artwork in a national museum.
Thanks to their mother, a self-confessed hoarder, several pictures the pair drew for their father when they were children are on display in the museum, with many other letters and personal artefacts from Sir Peter's early adventures.
WHERE AND WHEN
* Blue Water Black Magic - A Tribute to Sir Peter Blake
* Voyager New Zealand Maritime Museum.
* Corner Hobson and Quay Sts.
* Opens to the public tomorrow; entry free from 1-9pm.
* Regular hours and admission prices resume on Sunday.