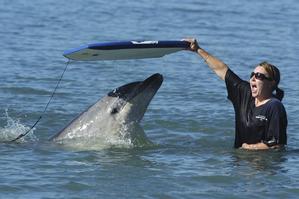 Some of Gisborne's veteran water users have lashed out at what they see as scaremongering reports about the district's dolphin - dubbed last night by TVNZ as "Moko the Menace" and potentially a killer dolphin.
A Close Up programme honed in on the dangers of Moko's growing size and frisky behaviour, particularly in deep water. Other media followed suit this morning, focusing on the possible hazard presented by the fun-loving mammal.
Olympic kayaking double gold medallist and surf lifesaving instructor Alan Thompson said he was horrified at the reports, which he described as grossly exaggerated and over-dramatised.
It was an absolute privilege being in the water with such a large and friendly marine mammal. Keeping safe while doing so was just a matter of common sense, he said.
"I have taken my 14-year-old daughter swimming with him."
He had seen a mother letting a child of about eight go out in the water on a flutter board to play with him.
"Flutter boards are his favourite toys and, of course, he is going to try to take it - it's plain common sense.
"If you don't like the way he plays, then don't go out in the water.
"If he wants to play while you are surfing and you don't want to play, then go somewhere else," he said.
Surf Lifesaving Gisborne manager Debbie Hutchings has "very real fears for Moko's safety" after the dolphin was "shut in" at Wainui Beach by surfers who "smacked" him with their boards.
The surfers were trying to recover a "stolen" surfboard.
"In order to get it back, they tried to cage him in," Mrs Hutchings said.
"They were using boards to try to push him away. They were basically hitting him to get it back."
However, Mrs Hutchings said it was more likely surfers assaulting Moko would come off second best.
Moko is at least 2.5 metres long and not yet considered an adult. Adult bottlenoses can reach 2.8m and swim at 5 to 12km/h.
The advice from Mrs Hutchings on stolen boards is "let him take it".
"He has come to learn that that's a game for him. But there are real risks of a person being injured if Moko's playing gets too rough or of someone finding themselves out of their depth where they are so far out at sea they might have real trouble getting back."
The Department of Conservation has continued its advice from two years ago when Moko was playing at Mahia - don't give toys like bodyboards to him to play with.
Mr Thompson says those taking a negative approach to Moko's presence should "get a life".
"It's absolute bulls..t," he said.
Former national surfing champion Teddy Colbert, who has been riding waves for more than 30 years, echoes Alan Thompson's words.
"It is a privilege for most of us who get out there, to be hanging out with him. To me he is only a danger if you want to be stupid. If you are terrified of him being big and bad, then don't get in the water with him."
Some Maori view Moko's presence as a message from Tangaroa.
Barney Tupara said Moko's visit was intriguing to Maori.
"For our people, our relationship with the creatures in the sea is very close. We are sad when a shark or whale dies because they are kaitiaki - guardians of the sea. To us, Moko has come to these shores for a reason, perhaps for us as a community to have a better understanding of the impact we are having on creatures in the sea.
"We play in the sea, but it's foreign territory for us - they live, abide and thrive there. If he is being aggressive or overly playful, don't be afraid of him - he might be telling you to move to a safer place, or that you're disturbing something under the water.
"Work with him, and listen to him."
- NZPA