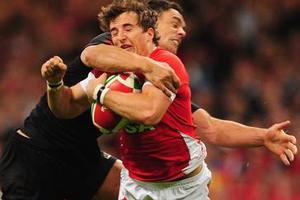 Everybody's saying sorry, but hardly anyone says thank you any more.
Air New Zealand is sorry for crashing TE901 into Erebus then treating the victims' families so shoddily. It may have been a case of selective reporting, and I seldom watch One News (the state-owned broadcaster had exclusive coverage) but I didn't hear anyone express deep gratitude to Rob Fyfe or Air New Zealand for taking the trouble to try and assuage the pain. In all the interviews about the 30-year memorial services and trip to Antarctica there was much criticism of the airline for doing too little, too late.
Hone Harawira's sorry for sending naughty emails about getting caught wagging official duties on a Speaker's tour. Rodney Hide's very, very, very sorry he let down everyone from the Prime Minister, to his party, to his high principles - gosh, even his bicycle tyres if it meant more media coverage. Yet nary a thank you from either bovver boy for our hard-earned taxes which paid for their holidays.
Witi Ihimaera's sorry he pinched some prose. Dan Carter's sorry he high tackled.
Sorry is the celebrity's metaphorical shovel-and-little-broom for public stuff-ups - sweep up the mess and toss it in the dustbin, quickly, so we can all get on with business in hand.
Not that I don't admire a genuine apology, but why doesn't anyone say thank you?
Academics can argue whichever way they like about Ihimaera's writing, but if you copy someone else's work without acknowledgment it's plagiarism, and that's theft. Doesn't matter if it's a little or a lot, it's still thieving. I know if I wrote a novel and stole stuff, nobody at Auckland University would give me the magic carpet ride they've afforded Ihimaera. But at least Witi could say thank you to those whose work he "loved" so much.
And what about poor Steve Braunias? He wrote a book about bird watching which inspired the television series Birdland, and the producer allegedly didn't even thank Braunias in the credits. As Braunias said, "Never mind. That's television."
Maybe some people aren't taught when they're little that thank you is a magic password. Rude people, who think they are being polite because they say, "Excuse me" as they push you out of their way, would achieve a lot more in their lives if they were a bit more generous with their speech and said, "Excuse me please".
I wouldn't blame truckies for erupting in road rage at most drivers these days. I've rarely encountered, on my frequent trips over the Rimutaka Hill, a big rig that doesn't pull over and let me pass, but do other cars toot their thanks? Very seldom. This once common courtesy has almost disappeared.
Lawyer Gary Gotlieb was interviewed on his cellphone last week about legal aid rip-offs. Gotlieb blamed it on Richard Prebble.
It didn't occur to Gotlieb to give thanks for reforms undertaken by the Preb, meaning he could stand on a street in Timaru and pontificate into a cellphone. Twenty-five years ago Gotlieb would have been stuck in his office with a regulation Post Office-owned, land-line, dial-up telephone.
If I sound bitter this week, it's because I am. I didn't want to write a column. Flat tax, catching Australia, plagiarism - it all seems so trivial. On Monday morning a good woman, as beautiful as the peonies she grew, died of cancer. Louise St John was a published poet, who divided her time between Melbourne and Martinborough, and grew peonies at Ponatahi.
Louise's brave spirit fought until the end. I'm thankful I knew her as a friend.
- HERALD ON SUNDAY