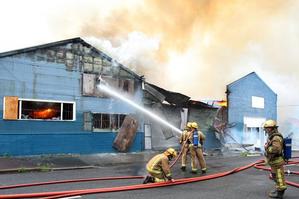 A "tornado" of acrid, black smoke billowed over the west of Auckland last night after fire engulfed a row of warehouses.
The blaze is believed to have started in an unoccupied produce warehouse in Great North Rd, Avondale, about 7pm, quickly spreading to two other buildings.
Northern Fire Communications shift manager Scott Osmond said the first unit arrived just after 7pm.
Seventeen units were eventually called in, and the fire was finally brought under control about 8.30pm.
Fire safety staff were last night investigating but said it was too early to say whether it was suspicious.
Truck driver Nigel Upton was about to offload 32,000 litres of petrol at the Mobil station across the road when he was alerted to the blaze.
"Someone walked up to me and said 'you might want to stop that there's a fire behind you'," Mr Upton said.
"It was lucky the wind was going the other way because when I offload the tank all the vapours come out straight away. If the embers headed this way it would have been a different story."
Mobil employee Varun Muthyala said he immediately shut the petrol pumps and dialled 111 when customers alerted him to the fire. The station was closed early.
One bystander watched as firefighters broke down a gate at a home to hose it down and staff were checking other residential properties to ensure no one was injured.
St John staff were on standby but a spokeswoman said no one was injured.
A New Lynn resident was on her way back from the supermarket when she spotted "black smoke billowing out".
"It was quite windy as well and was drizzling but fire just engulfed the whole place."
The woman - who did not want to be named - said: "It was massive, you know how you get a tornado. We could see it was grey, but by the time we got closer it was just black."