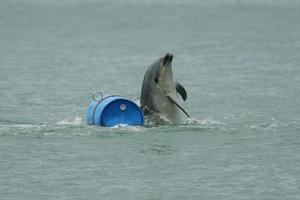 Moko the dolphin's playful behaviour has injured two junior lifeguards, bringing a warning to keep away from him.
The two 12-year-old girls were out on their paddle boards on Sunday off Gisborne beach when Moko knocked them off - one girl's nose was injured and the other received a bruised hip.
Moko would not let the girls get back on their boards so they were forced to share one belonging to another clubmate. He then tried to knock them off that board.
Department of Conservation biodiversity programme manager John Adams said Moko's increasing roughness in the past six months had become a worry.
Mr Adams said DoC staff could only second-guess his behaviour as he might not realise his own strength.
"What might appear to be a small nudge to a dolphin can be a major blow to a person," he said.
DoC staff continued to advise swimmers to give Moko space in the water and not to get too close to him.
"He is a wild animal so there's a real risk of danger there."
Moko has made his home in Gisborne since leaving Mahia in September.
His playful antics recently left a 16-year-old surfer stranded 400m offshore after Moko took his board. Police also received a complaint last weekend that when Moko swam through a group of surfers waiting to catch a wave, he knocked them over.
Mahia resident Marie Preddey said this behaviour was the same as what Moko used to get up to while in the seaside township.
"It's just playful behaviour but he's a big, strong beast now," she said. "I don't think he intentionally means to harm people. I never felt particularly threatened by him in any shape or form."
Earlier in the year, Mrs Preddey spent an hour stuck out at sea in her kayak after Moko refused to let her return to shore. Eventually, she was forced to jump out and tow the kayak back to shore while Moko played around her.
In July, Sophie Brown was marooned on a buoy for hours after Moko prevented her from returning to shore. She was exhausted and freezing when rescued.
Despite Moko's antics, Mrs Preddey said Mahia people were disappointed the dolphin had settled in Gisborne.
"It's much quieter now that you don't have the daytime visitors coming to play with the dolphin."
- NZPA