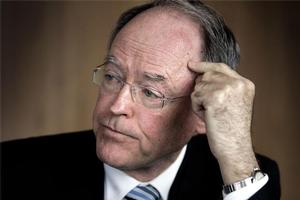 It will not be possible to catch Australia in the wealth stakes without slashing Government spending by $9 billion, productivity taskforce head Don Brash said today.
The 2025 taskforce report, headed by the former National Party leader and Reserve Bank governor, said the Government's goal of closing the 35 per cent income gap with Australia by 2025 was an ambitious one that would require New Zealand growth to outstrip that of Australia by 1.8 per cent a year.
Even before its release Prime Minister John Key said the radical changes were unlikely to be implemented quickly, if at all.
The only way to implement the vast majority of the recommendations would be to break election promises and Mr Key said he was not going to do that.
Dr Brash revealed 35 recommendations today but the centrepiece was to reduce government spending to 2005 levels of 29 per cent of gross domestic product by 2012-13.
This could be done by:
* Reducing benefit numbers through "ambitious" welfare reform;
* Ending Kiwisaver subsidies;
* Scrapping the New Zealand Superannuation Fund and using the money to pay off debt;
* Raising the age of superannuation eligibility; and
* Cutting universal subsidies for health and education.
Of these savings, $7 billion would be used to reduce all income and business taxes to a top rate of 20 per cent.
Dr Brash said unless tax and spending were slashed the Government's "ambitious" goal could not be achieved.
"There may be some other cunning plan, but I am not aware of it," Dr Brash said.
He said the proposed cuts were "not a massacre", but a winding back of spending that had not been effective since 2005.
The taskforce's other policy prescriptions included:
* Reducing the minimum wage and reintroducing a lower minimum youth wage;
* Changing employment laws to make it easier to sack workers;
* Extending probationary employment periods to a year for all workers;
* Privatising all state owned businesses which could feasibly be sold;
* Congestion charges; and
* Encouraging more mining.
Dr Brash said it was up to the Government how it reacted to the taskforce's recommendations, but he noted Mr Key had "enormous political capital" and without changes New Zealanders would remain poorer than Australians.
Mr Key said during the 1980s and 1990s New Zealand underwent radical economic reform while Australia took a more incremental approach. The trans-Tasman neighbour was now in much better shape.
"In that regard I am not convinced that absolutely radical big bang reform is the right way to go," Mr Key said.
"It would certainly have a dramatic effect on New Zealanders and in the short term it would feel very much like we were pulling the rug out from underneath them."
Mr Key said the Government would also keep its promises.
The taskforce was set up as part of a support agreement with the Act Party which has a key policy plank of a flat tax.
Finance Minister Bill English said the report would create a lot of debate about New Zealand's economic performance.
"The Government intends to pick its way through the report to see what recommendations it could implement," he said.
"Some of the recommendations the Government would not support... the report is too radical for the Government to pick it up and push it through."
Where the Government did not accept recommendations it would look to other policy to achieve economic growth.
Labour leader Phil Goff questioned the motivation behind the taskforce.
"It makes you wonder why you would set up a committee led by Don Brash who has come up with an entirely predictable and discredited agenda," Mr Goff said.
"Why would you do that other than maybe to frighten the hell out of people, put up a straw man and then say `look we're only going to go part way toward that agenda' and everybody breaths a sigh of relief because the slashing that occurs isn't quite as extreme as the Brash proposal."
- NZPA