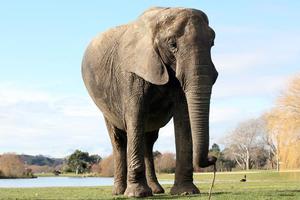 Jumbo the elephant is giving up the high life in the circus for one that will be less demanding - retirement.
The 36-year-old African elephant has been touring with the Loritz Circus, run by Weber Brothers, for the past year.
Yesterday the company announced that Jumbo is to retire from a 28-year-long career in the circus business and is being gifted to the SPCA.
Weber Brothers owner Harry Weber said it had always been the organisation's intention that Jumbo get the opportunity to enjoy the second part of her life away from the public eye.
"Being on the road with the circus can be tiring for animals and their health and well-being is always our main priority," Mr Weber said.
A decision on where Jumbo will go is expected to be made final in the next few days, and a sanctuary-type environment is expected, circus marketing manager and spokesman Paul Johnstone said, given her close links with people.
Other options include putting her back into the wild or being put into a zoo.
Because Jumbo can eat up to $200-worth of food per day, the SPCA has set up a fund so that those members of the public wanting to help care for her can donate.
Donations can be made via the SPCA website: www.rnzspca.org.nz.