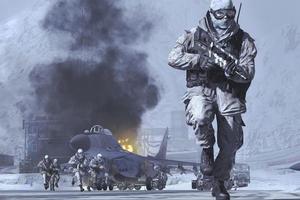 A graphic and violent video game where the player assumes the role of a terrorist to massacre dozens of innocent people, is tipped to be one of the best-selling games this Christmas.
The R18-rated Call of Duty: Modern Warfare 2 was released in stores on Tuesday and has already proved popular with gamers.
However, the game has come under scrutiny abroad for one level which allows the player to take part in a massacre of civilians in a Russian airport.
In the scene, which even hard-core gamers say is "disturbing", the player exits an elevator with a team of kevlar-wearing terrorists all armed with machine guns.
The group first opens fire at passengers queuing at a check-in counter, killing dozens of men and women.
The terrorists then walk through the airport, shooting everyone in sight. Injured civilians are shot as they crawl through trails of blood, as the screams of those being targeted rise in the background.
The player's character is a CIA agent, forced to take part in the attack in order not to blow his cover. Other levels in the game are more conventional, focusing on attacking terrorists and enemy soldiers.
Auckland University psychologist Dr Ian Lambie said some video games could be "antagonistic" and a "catalyst" for people with violent tendencies and histories.
He said violent games were desensitising people. "The threshold for what is acceptable seems to have risen if you look at what was acceptable say 20 years ago.
"I think banning or having censorship around these extremely violent games absolutely needs to take place because what is the purpose of actually having them?"
The Office of Film & Literature Classification office gave the game its R18 rating, with a descriptive note warning the game has graphic violence and content that may disturb.
The office said no inquiries or complaints had been made by the public "yet".
At gaming store Livewire, on Queen St, retailer Donna Deng said: "Yes, it's very popular. We've had a lot of people come in today."
At EB Games, dozens of people had come through yesterday to buy the game.
"It's been quite popular," a store employee said.
"It's one of the biggest games in the year and people have been waiting quite a while for it."
Gameplanet chief executive Simon Barton, whose store had already received more than 1000 orders, expected the game to be the biggest seller of the year despite its R18 rating.
Mr Barton said he was hooked on the game but agreed the airport scene, which players can opt not to take part in, simply "felt wrong".
"I think it definitely should be rated R18 ... so it is also surprising to hear that 15-year-olds can play it in Australia," he said.
"When you participate in that [the airport scene], it feels very wrong but aside from that the violence in it isn't any worse than any other game."
Superintendent Bill Harrison, national manager of police youth education services, said more local research was needed but there were concerns the responses learned in some games could become "innate".
He said the onus was on parents to strictly adhere to the game's R18 classification. "Would they even take a second guess at what they would do if their children were watching a pornographic DVD? Then why would they let them play games like this?"
Chief censor Bill Hastings said no complaints had come through about the game, but added: "If you don't let your children watch an R18 movie, you shouldn't let them play an R18 game."
First-day global sales of the game were set to reach $500 million - exceeding the previous record set by Grand Theft Auto IV last year by nearly $200 million.