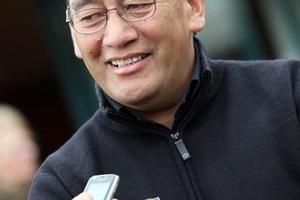 Maori Party MP Hone Harawira is expected to apologise tomorrow for racist remarks about white people.
His intentions could not be confirmed tonight but he will get the opportunity to go public when he is a guest on a Radio Live programme hosted by Maori commentators Willie Jackson and John Tamihere, due to go on air about 1pm.
TV3 News reported tonight a Maori Party hui arranged for Thursday to discuss how Mr Harawira could atone for his comments had been brought forward to tomorrow.
The report said the MP for Te Tai Tokerau (Northland) would make his apology in Auckland tomorrow.
Pressure has been mounting on Mr Harawira over the last 24 hours, and earlier today Prime Minister John Key said he should apologise for his outburst in response to criticism of the way he skipped off to Paris while he was on a parliamentary trip to Europe.
Party president Whatarangi Winiata could not be contacted to confirm the hui had been brought forward.
Responding to an email questioning his trip to Paris, Mr Harawira said it was "white man's bullshit" and "White motherf...ers have been raping our lands and ripping us off for centuries".
Maori Party leaders decided yesterday he wouldn't be expelled from the party but they appeared to at least expect a public apology.
"I think he will find a way to apologise to the nation," Prof Winiata said yesterday.
"We will help him do that."
However, party co-leader Pita Sharples said today he wouldn't order an apology.
"An apology is something from the heart and the mind and I'm not going to tell someone they have to apologise," he said.
"I can say it's my wish that they would but you can't order someone to apologise."
Prime Minister John Key said he thought an apology was needed.
"I definitely think he owes a bit of an apology," Mr Key said.
"It's for the Maori Party leadership to sort that out, and I have got to say they are doing their best to try and deal with that situation."
Race Relations Commissioner Joris de Bres also called for an apology, and suggested this morning that Mr Harawira deliver that in Parliament.
The commission received more than 20 complaints about the email but said yesterday Mr Harawira's language did not breach to Human Rights Act.
Mr Harawira was part of a parliamentary delegation visiting Europe when he decided to leave Brussels and take his wife to Paris for the day.
He was unrepentant about that, saying he paid for it himself, but he is reported to have misled Maori Party co-leader Tariana Turia over it.
Subsequently, former Waitangi Tribunal director Buddy Mikaere sent Mr Harawira an email questioning the Paris trip.
In response, Mr Harawira sent an email saying: "Gee Buddy, do you believe that white man's bullshit too? White motherf...ers have been raping our lands and ripping us off for centuries and all of a sudden you want me to play along with their puritanical bullshit."
Mr Key said there was "a tinge of racism in those comments".
"He's a shock jock kind of MP... the problem is he says things and does things that are a bit outrageous."
- NZPA