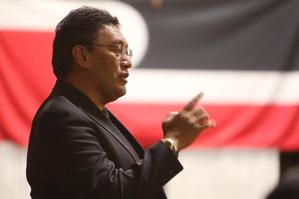 Maori MP Hone Harawira has reacted to an email criticising him for bunking off a work trip to visit Paris, by lashing out at white people.
In an email exchange released to Radio New Zealand, Mr Harawira accused "white motherf.******" of "puritanical bullsh**" for expecting him to follow the rules.
Prime Minister John Key has labelled the remarks "deeply offensive" but he says it is up to Maori Party leadership to deal with it.
Already this morning Maori Party co-leader Tariana Turia expressed concerns his unscheduled side trip to Paris during a taxpayer-funded work trip last month would damage the party's reputation.
Mrs Turia did not immediately respond to a request for comment on the email.
Mr Harawira skipped a meeting in Brussels so he and his wife Hilda could spend a day in Paris. He paid for the extra travel himself.
Mr Mikaere, who runs a consulting company, emailed Mr Harawira a two sentence message: "Gotta ask the question eh? who's paying for Hilda?"
Mr Harawira wrote back starting his email; "Gee Buddy, do you believe that white man bullsh** too do you?
"White motherf****** have been raping our lands and ripping us off for centuries and all of a sudden you want me to play along with their puritanical bullsh**."
Mr Harawira then went on to say how much time and energy he put into fighting for Maori and what a big role his wife Hilda played in that.
"And quite frankly I don't give a sh** what you or anyone else thinks about it. OK?"
That made Mr Mikaere angry and he wrote back again.
"... you're no better than that w***er Rodney Hide and the white mofos you complain about," Mr Mikaere wrote, referring to Mr Hide's actions in taking his partner on an overseas ministerial trip despite the Prime Minister John Key's direction against the practice.
"And get off your moral high horse while you're at it - nobody forced you to be an MP."
Mr Mikaere told NZPA the Maori Party would no longer be getting his vote. He said Mr Harawira was not fit to be an MP and should resign.
Mr Harawira was already in hot water with Speaker Lockwood Smith saying he may have to pay back some of the trip's overall cost and Mrs Turia revealing she had been led to believe the reason he skipped the meeting was illness.
"I'm very concerned, my understanding was he was ill over in Brussels but it would appear... that he went off to Paris for a trip, that it was quite a deliberate thing," she told Radio New Zealand.
"The worry for me is that Hone was the leader of that delegation and I guess that what we are going to be questioned about in future, in terms of any trips overseas, is that `can we give a guarantee that this won't happen again, it happened in Australia?' And with hand over heart I don't think we can give that guarantee."
In 2007 Mr Harawira was told to pay back some flights after he left mid-way through a four-day select committee trip to Melbourne, so he could visit Aboriginal groups in Alice Springs.
Mrs Turia was concerned about public perceptions and how Mr Harawira's actions would reflect on the party.
"All of us have to be really conscious as to the perception that's created as to how we use public funds, the public doesn't actually fund us to go on holidays and to have a look around and that's the reality."
Mr Harawira has been unrepentant about his actions, saying he missed nothing by skipping the meeting as he had already met those attending the meeting and discussed issues with them.
He did not think he should have to pay back any money and was glad he had undertaken the side trip, saying it would have been "dumb" not to visit such a wonderful city.
The other two MPs in the delegation, National MP Katrina Shanks and Labour MP Rajen Prasad, attended the meeting, which discussed relations between the EU and New Zealand, family and youth policies and multiculturalism.
- NZPA