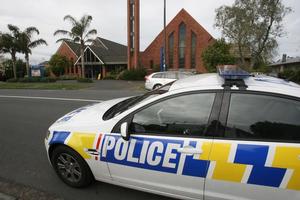 A man who has pleaded guilty to taking a gun and two knives to a church on the day his wife left him, sparking an armed offenders squad call-out, is seeking a discharge without conviction.
After viewing the court file, nzherald.co.nz can reveal that the man has admitted three charges of using an offensive weapon - an airgun and two knives - and has been remanded on bail.
The 48 year-old has interim name suppression and his lawyer Stuart Grieve QC said his client will be applying for that to be made permanent.
Mr Grieve told the Auckland District Court on Tuesday that his client has a "responsible job in a banking institution" and would lose his job if his name was made public.
He also submitted a psychiatrist's report on his client, who was in an "unstable state" on the day of the incident.
The man turned up to the St Heliers Presbyterian Church with the weapons after reportedly sending angry emails the day before.
The Armed Offenders Squad was called to the church while 40 children played at the near-by childcare centre. The man was later arrested at his house.
Mr Grieve said the incident happened on the same day that the man's wife left him, in September. He said later that afternoon, the man took two knives and an airgun to the church where he intended to commit suicide.
He said two office workers at the church saw the man.
"They were of course very frightened but there was no threat to them," Mr Grieve told the court.
He said the man's son had just started school and there would be a "detrimental affect" if his father was named.
Mr Grieve said he had spoken to the police officer in charge of the case and she had indicated that police would not oppose name suppression and a discharge without conviction.
However, police prosecutor Catherine Vailahi said the officer in charge had not told her of the arrangement.
Ms Vailahi said it was not in the interests of the community or justice to grant name suppression.
Mr Grieve said he found it "unsatisfactory" that the discussion with police had not been passed on to the prosecutor.
Judge Christopher Field remanded the man on bail to reappear in December.
At the time of the incident, Reverend Pauline Stewart told the Herald that she had received the alarming emails but she had not been able to get to see the man.
She said though the man's actions appeared to be "a cry for help", the fact the church ran a child-care centre meant the situation "could have gone ugly".
Rev Stewart said she wished she could have done more to help the man before he turned up at the church.
"I blame myself really, because I had got an unfortunate email message but I didn't take it as seriously as I should have," she said.