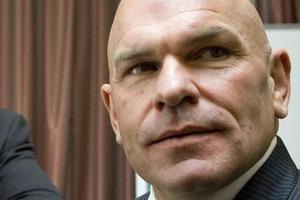 Act leader Rodney Hide took his girlfriend, Louise Crome, to an amusement park in Los Angeles during their taxpayer-funded trip that was also timed to coincide with her brother's wedding near London.
The Herald has learned Mr Hide squeezed in a visit to Universal Studios after an official meeting with a top Los Angeles City Council official.
Mr Hide's spokeswoman confirmed that the couple had some time before their flights home to New Zealand and thought, "We've got a couple of hours downtime, let's have some fun".
It has also been revealed that they took a weekend off during the 10-day fact-finding trip to go to the wedding of Ms Crome's brother David.
Mr Hide has not mentioned the wedding or Universal Studios while justifying the trip since the Herald revealed he used his MP's travel privileges to take Ms Crome with him, leaving the taxpayer with a $25,163 bill for her flights.
Mr Hide's spokeswoman said neither the amusement park trip nor the wedding cost the taxpayer. He had paid for his own accommodation on the weekend of the wedding, she said.
The spokeswoman said Mr Hide was "always going to go to the wedding" and was able to time the Super City fact-finding trip at the same time during parliamentary recess.
During Mr Hide's time in London, he also met Mayor Boris Johnson and city officials. He took some time out from ministerial business to address the right-wing Reform thinktank.
The spokeswoman said Ms Crome would have gone on the ministerial trip anyway and it was a "bonus to be able to go to the wedding".
Mr Hide's political troubles deepened this week when he told a Christchurch breakfast meeting that Prime Minister John Key "doesn't do anything" and was highly regarded, while "Act did everything and we are hated".
He told his audience he was also amazed at how much he could get through the Cabinet, because "you turn up with your papers" and "they are too busy with their own stuff, they're not bothered".
He also talked about his progress on the Auckland Super City plan, and of getting rid of 700 bureaucrats and saving $66 million.
Yesterday, Mr Hide apologised for criticising the PM's performance.