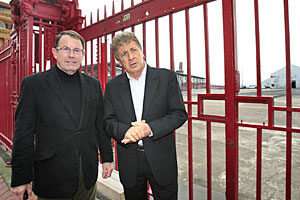 Auckland City Mayor John Banks is considering canning the Queens Wharf upgrade amid growing concerns the city will inherit another mediocre development.
"One of the options could be to do next to nothing," he said.
Mr Banks, Rugby World Cup minister Murray McCully, and Auckland Regional Council chairman Mike Lee are to meet in Auckland tomorrow to pick the winner of the Queens Wharf design contest.
Mr Lee has already said the designs are "lacklustre, underwhelming and mediocre".
Gerry Brownlee was also due to be at the meeting but has another engagement.
He told nzherald.co.nz that he had viewed all the entrants of the design competition but was not commenting on which one, if any, that he preferred.
A spokesman for Mr McCully said the Minister was not commenting.
He said it was unlikely that a decision would be made tomorrow.
Mr Banks acknowledged the contest had not won over the public and he would be interested in feedback on the winning design.
Design professionals and Aucklanders have been unimpressed with the designs of the eight finalists to turn Queens Wharf into a combined cruise ship terminal and "party central" venue for the 2011 Rugby World Cup.
In a letter to the Herald, arts patron Dame Jenny Gibbs summed up a common view that Auckland was going down the familiar path of a ridiculously short time frame, an inadequate and unrealistic budget, an insufficient brief and mixed messages about whether to retain the old cargo sheds.
"Inevitably, we will end up with the usual shortsighted Auckland solution - at best ordinary, at worst cheap and nasty," she said.
Mr Banks, who wants to be the first Mayor of the Auckland Super City, said he did not want a second-rate Queens Wharf to be part of his legacy, but nor was he prepared to commit any more money.
The city council is already funding $57 million of the $74 million budget to strengthen and develop the wharf, leaving a $19 million shortfall.
Manukau Mayor Len Brown, another Super City mayoral candidate, said Queens Wharf was constrained by wanting to do something for the Cup.
"We can do a lot with the twin sheds and make it party central without the need to rush into what could potentially be a brilliant iconic structure."
One idea from public relations consultant Angela Griffen is to use the talents of Mike Mizrahi.
Mr Mizrahi's Inside Out Productions is behind the promotion of the 100 per cent Pure New Zealand rugby ball staged in Paris, London and Tokyo for the 2011 cup and light shows at the Auckland Town Hall and Auckland Ferry Building.
New Zealand Institute of Architects chief executive Beverley McRae said it was premature to be criticising the results of the design contest.
"While no competition is perfect, this one is at least attempting to take a wide range of views and considerations into account."
- NZ HERALD STAFF