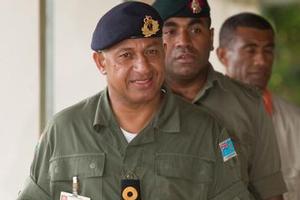 Fiji has ordered New Zealand and Australia envoys to return home within 24 hours, accusing them of interfering in its internal affairs.
Fiji was plunged into crisis in April after the president reappointed coup leader Frank Bainimarama as prime minister, less than two days after the High Court ruled the military leader's 2006 coup and subsequent government was illegal.
Fiji's president fired the judges who a day earlier had declared the military government illegal, deepening the troubled South Pacific country's political turmoil.
President Ratu Josefa Iloilo announced in a nationally broadcast radio address that he had abolished the constitution, assumed all governing power and revoked all judicial appointments.
The move came one day after the country's second-highest court ruled that armed forces chief Commodore Frank Bainimarama's government that took power after a 2006 coup was illegal, effectively creating a power vacuum.
- NZPA