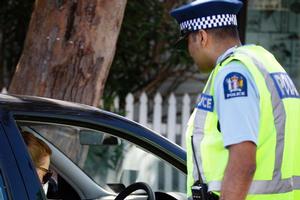 Police reported high compliance with the new hand-held cellphone ban after its introduction yesterday, although several Auckland motorists received infringement notices.
Although police concentrated on educating motorists about the ban and other road law changes, including one allowing roadside drug impairment tests, central Auckland patrols issued four notices to drivers caught on the phone.
Sergeant Ashley Gore was told by officers on the shift before his road policing section's afternoon patrols that all four had been caught using hand-held phones despite acknowledging awareness of the ban.
"They were driving while talking on the phone and, when they were asked if they were aware of the ban, said they knew about it."
Each faces an $80 fine and 20 licence demerit points.
Although officers have been instructed to use discretion as motorists adjust to the ban, national road policing manager Superintendent Paula Rose says that should not be taken to mean a free-ride period for dangerous practices.
She said last night that police were reporting high compliance with the ban, and she had not come across any violations while on patrol around the Wellington region for its first six hours, from midnight on Saturday.
"Yes, we've had a few instances where police officers have felt the need to issue an infringement as opposed to using a warning, but they've been very, very few," Ms Rose said.
"Most people have been very supportive - people have been saying about how they've decided to turn off their cellphone, or put it in the boot or put it in their bag, and others who have purchased hands-free kits are getting used to using those.
"We've had some people who clearly haven't known about it and we've been handing out pamphlets which talk about the changes to the road user rule, as well as to the drug-driver legislation."
Neither was Ms Rose aware of any drivers failing a roadside test for impairment by illicit or prescription drugs.
Although Mr Gore issued four infringement notices in an hour while accompanied by the Herald, three were for failing to wear seatbelts and the other for driving at 57km/h in Ponsonby Rd's new 40km/h zone.
But two not wearing seatbelts were carrying cellphones not secured in cradles, and could have been fined had they been caught talking or texting.
A young woman with a phone in her lap admitted to reading a text while stopped at lights but was let off as she was unaware it was not allowed.
Mr Gore said looking down to read or send texts was potentially more dangerous than talking on phones. He was also unimpressed with a driver who showed him a hands-free phone kit not secured to the dashboard.