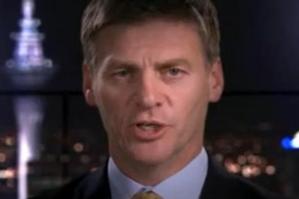 An ad Labour says is propaganda for the National Government will finish running its course before being replaced with another, TVNZ says.
Labour MPs David Cunliffe and Brendon Burns complained to TVNZ over the ad featuring Finance Minister Bill English. They believe it was effectively a party political broadcast and gave National advertising worth as much as $1 million.
The 45 second ad for TVNZ 7's Focus on the Economy series started playing on October 18 and is running on TV One, TV2, TVNZ 6 & TVNZ 7.
The ad promises to translate the recession into plain English, which is also the name of Mr English's personal newsletter.
TVNZ said in an email to the MPs that the ad was scheduled to play a few more times but was then being phased out. The second ad would provide detail about debates and programmes in the series.
TVNZ spokeswoman Megan Richards said that was always the plan.
"We made two ads for marketing the programme... the intention was to run the English one for roughly half of it and to phase in the second one. As one rotates down the other rotates up - that's in terms of advertising slots for schedules.
"There's no change."
The English ad would run down over the weekend or early next week.
"We haven't pulled it off air."
TVNZ stood by its position that there was no balance issue.
"We're happy that it's not in breach of the Broadcasting Standards Authority in terms of fairness and balance."
Ms Richards said National wasn't getting free advertising and Mr English had been chosen because of his role.
But Massey University political marketing specialist Claire Robinson told NZPA yesterday it strongly favoured National and was so unbalanced it shouldn't be on air.
Mr Cunliffe's concerns remain. "While TVNZ claims there was no intent for the promo to be political for anyone watching it looked exactly like a party political broadcast."
He understood the ad would run 65 times in total.
Mr Cunliffe said as shareholding minister Mr English had showed poor judgment.
Prime Minister John Key disagreed.
This morning he said the only problem he had with the ad was "they didn't ask me".
- NZPA