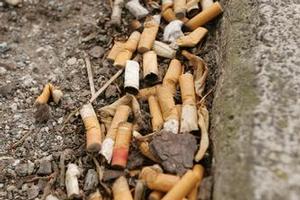 Western Bay of Plenty District Council is trying to snuff out smoking outdoors with a smokefree policy targeting 30 of the district's beaches.
They include the popular holiday spots of Waihi Beach, Maketu and Athenree - and the towns of Katikati and Te Puke.
Western Bay of Plenty District Mayor Ross Paterson said council hoped the policy would raise awareness of antipathy many people now have toward smoking in public areas.
"This is not a ban - council has no intention of taking any action against people for smoking in public spaces.
"But it is a strong affirmation by this council to support a smokefree environment and to empower people to ask someone who is smoking to please stop,' he said.
"If we can raise the public's awareness of the dangers of smoking on our children, young people, the environment and our communities in general, then I believe we are fulfilling our role as a responsible local authority.'
Mr Paterson said he did not believe there would be any problems with the policy on the beaches.
"Nobody wants to take their kids to the beach to play in an ashtray,' he said.
Feedback on the policy was positive and only a couple of people had questioned how it would be enforced, he said.
The policy was initiated by the Bay of Plenty Public Heath organisation Toi Te Ora.
While 23 local bodies in New Zealand already have adopted smokefree policies, Western Bay was only the third to include beaches under its policy, the other two being Opotiki and Gisborne.
Council staff had last week recommended the council make all council public facilities, except beaches, smokefree.
But councillor Sam Dunlop moved another option be adopted, which included beaches in the list of smokefree public spaces. This was unanimously backed by the council's policy and planning committee, the Bay of Plenty Times reported.
Most people the paper spoke to in some of the affected areas supported the move, but many questioned how it would be policed.
Councillor Kevin Marsh questioned how the smokefree push would be policed.
"You only have to go up to Tauranga Hospital to see it's not working," he said.
A quick phone survey of residents in Waihi Beach and Maketu echoed those sentiments.
One Waihi Beach resident, who asked not to be named, said while he smoked, he could see the advantage of making beaches smokefree.
"But how the hell do you monitor this? Really what you are saying is people are just asked nicely not to smoke but can do so if they want?"
Associate Health Minister Health Tariana Turia commended the council on its policy.
"Banning smoking in public spaces not only makes it harder for smokers to light up but it helps reduce youth uptake of smoking,' she said.
- NZPA