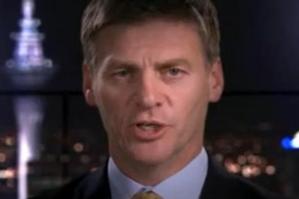 Labour has written to TVNZ asking it to pull an ad it says gives National about $1 million in free publicity.
Its criticism is backed by Massey University political marketing specialist Claire Robinson who thought the ad promoting TVNZ 7's Focus on the Economy show strongly favoured National and was so unbalanced it should not air.
The 45 second ad started playing on October 18 and will run until November 21 after being shown 130 times on TV One, TV2, TVNZ 6 & TVNZ 7.
The ad promises to translate the recession into plain English, which is also the name of Mr English's personal newsletter.
Labour MPs David Cunliffe and Brendon Burns wrote to TVNZ chief executive Rick Ellis today to register a formal complaint about the ad.
The letter says the ad appears to be a party political ad and allows Mr English to repeat lines from political speeches.
The MPs said news staff had raised strong concerns about the ad but were ignored.
They believed the ad breached the Code of Broadcasting Practice in that it did not present significant alternative points of view.
"No attempt has been made to ensure the promotion is balanced," they said.
The MPs requested that the ads be canned, efforts be made to ensure better processes were followed in future and that TVNZ to make a statement clarifying the position.
"These steps would protect TVNZ from knowingly violating the principles of neutrality and balance going forward, and would also help to protect its shareholding minister from growing concern at inappropriately benefiting from such a perceived conflict of interest."
The letter mentioned Mr Cunliffe's call yesterday to head of corporate affairs Peter Parussini, who knocked him back.
Speaking to journalists Mr Cunliffe said Labour should be given the same kind of coverage that Mr English was receiving.
"This is a significant subsidy to the Government using a state broadcaster. It looks and feels like propaganda. It looks like an election campaign's already started and that's inappropriate."
He believed the ads were worth as much as $1 million.
"Certainly the Labour Party could not afford to buy that time."
TVNZ spokeswoman Megan Richards rebuffed suggestions the ad promoted National.
The plain English approach was meant to "poke a little gentle fun" at the complex language politicians, commentators and media used.
"It's a light-hearted approach, there's no way its party political. The fact is the finance minister, who obviously is a key figure in discussions around the economy, happens to have a name that lends itself to a bit of fun."
She did not accept that National had got free advertising. Mr English was chosen because of his role. "You would be very surprised to find him espousing Labour Party political views," she said.
The material in the promo were things Mr English had previously said.
Asked if that raised balance issues, she said the point was to advertise a show: "I don't think there's an issue around balance and fairness."
In Parliament, Mr Cunliffe raised concerns that Mr English should have been aware of a potential conflict of interest given he was a shareholding minister of TVNZ.
Mr English told reporters when Labour was in government it had received significant air time because it was the party making decisions.
There had been no interference in TVNZ's editorial independence, he said, and the only changes his office sought were to correct inaccuracies in the script he had to read.
"I'm not concerned about it, I'm quite comfortable. It seems to be others who wanted to be in the promo that are uncomfortable," Mr English said.
He thought the topic of the show was worthy of attention and the media should be informing the public about the economy.
- NZPA